Two Years Later: Lessons Learned From the 2011 Super Outbreak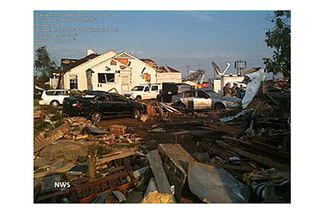 (Image credit: National Weather Service.)
This article was provided by AccuWeather.com.
April 25 through April 28, 2011, marks one of the deadliest tornado super outbreaks in recent history, with a total of 358 tornadoes confirmed by the National Weather Service.
The tornadoes ransacked several states, becoming particularly destructive in Alabama, Arkansas, Georgia, Mississippi, Tennessee and Virginia and claiming the lives of 321 people.
The outbreak was one that will not soon be forgotten, those who experienced it say, but it also served as a lesson for residents and officials.
James Spann, an Alabama-based meteorologist of more than 30 years, recalls the severity of the event, and particularly the damage incurred in Tuscaloosa and Birmingham on April 27.
The severe weather began that morning earlier than expected, Spann said.
He arrived at the station at 4:30 a.m., and by 9:00 a.m., five people had already been killed and power was out for more than 250,000.
"That, in itself, was more severe than the inland impact of Hurricane Katrina and Hurricane Ivan here," he said. "It was like somebody punched us in the gut, and we weren't ready for it. We had all kinds of damages."
RELATED: Social Media: Key Tool in Relaying Severe Weather Information
However, Spann discovered critical information coming from a surprising place the day after the storm: his twitter feed.
"You go back and look at my twitter feed from that day, it's stunning," he said. "Some of these people had medical emergencies, some of these people were still trapped under rubble and their battery was still working, and they hit me up on twitter and I didn't know what to do. It was overwhelming."
As the tweets continued to pour in, Spann called friends in emergency management who began monitoring his page for such information.
"That social media intensity stayed up for two or three days that way," he said.
For the social media team at the Red Cross, it was a similar situation.
"This particular tornado outbreak marked the first time we were able to get structured needs from people on social media into the hands of decision makers in the Emergency Operations Center in Alabama," said Wendy Harman, Director of Social Strategy at the Red Cross.
"It's definitely the first time that social data, and social media information was used in an emergency operation center, to my knowledge. And we thought that was a very big win," Harman said.
After the tornadoes had passed, the Red Cross used social networks to provide simple services such as disseminating information about shelters and recovery.
"There was so much attention in Tuscaloosa and there were pockets of populations in northeast Alabama, I believe, and west Georgia that hadn't received services, and those communities began using Facebook to say, 'We're up here. We're not getting attention; we haven't seen services,'" Harman explained.
The information relayed by affected populations allowed Harman and the Red Cross to inform disaster services on the ground. They were also able to mobilize additional resources to those areas that had not yet been served.
While social media has played an important role in disseminating information before and during a severe weather situation for many years, this event helped to clarify its role post-disaster.
"In addition to being a way for us to receive information after the event, it was a very critical way of hooking up relief agencies and people that had very serious needs," Spann said.
"There are people walking around alive today in Tuscaloosa, Ala., because of social media. It is very powerful."
AccuWeather.com. All rights reserved. More from AccuWeather.com.
The weather is getting stranger, right? Well, for the most part no, scientists say, but humans often think so when a strange event does occur. So here's your chance to prove how much you known about weather oddities.
Weird Weather: One Strange Quiz
Stay up to date on the latest science news by signing up for our Essentials newsletter.