In Pain? Stop and Smell the Roses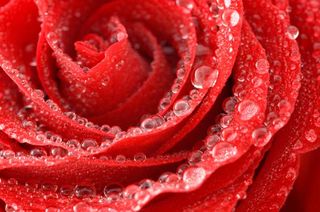 (Image credit: Dreamstime)
Roses (genus Rosa) encompass over 100 known species. Cultivated for their fragrance and beauty, roses historically have been the center of much praise. Poets have dedicated odes to their beauty, they have been desired by centuries of gardeners and are one of the most universal symbols, often representing love and life. As the phrase goes, sometimes you do have to "stop and smell the roses."
Although you may think that this is just a fancy way of saying take some time to enjoy life, perhaps we have dismissed roses for too long. Seriously, you should pay more attention to those roses. They could greatly improve your life. That is, if you are one of the millions of people in the US who suffer from arthritis diseases such as osteoarthritis and rheumatoid arthritis.
Results from two different arthritis studies have confirmed that an active ingredient of rose hips has been shown to protect and possibly rebuild joint tissue broken down by arthritis. The latest results, presented at the osteoarthritis Research Society International (ORSI) World Conference in Rome, explained the mechanism of protein GOPO(R) found in rose hips. This extract, has demonstrated the ability to protect vulnerable cartilage and possibly stimulate its regeneration. GOPO(R) has also been shown to improve mood, increased energy and sleep quality of those affected by arthritis.
Conditions such as osteoarthritis and rheumatoid arthritis cause a breakdown of vital cartilage in joints. According to the Arthritis Foundation, there are 27 million people in the US living with osteoarthritis in the US and 1.3 million people affected by rheumatoid arthritis. Marked by stiffness, swelling, loss of flexibly and pain, arthritis can significantly deter one from a normal life.
There is no clear cause for arthritis although a number of risk factors have been identified including genetics, obesity and age. These conditions worsen over time as there is no cure for arthritis. Treatment includes either steroidal or non-steroidal anti-inflammatory drugs and/or pain killers and can be daunting for one who doesn't wish to resign themselves to a lifetime regimen of Advil and Vicoden. Alternatives such as GOPO(R) from rose hips may prove to be a better solution for joint swelling and pain without the side effects of large doses of pain killers, steroids or other anti-inflammatory medications.
At the forefront of the ORSI World Conference were the results of two studies demonstrating the benefits of GOPO(R). The first study examined the effects of rose hip powder on cartilage cells (chrondrocytes) responsible for building cartilage in the joints. The study found that GOPO(R) deactivated genes responsible for certain protein and enzymatic triggers of joint destruction by an inflammation reaction by the body. It was also seen to switch on genes which help produce collagen and cartilage, which is a key to joint repair. This study also saw that rose hip powder was able to inhibit the production of inflammatory mediators such as nitric oxide (NO) and prostaglandin E2 (PGE2).
The second study focused on rose hip powder effects on the immune system of horses, which are prone to developing OA early in life. The study found that horses given GOPO(R) acted as an anti-inflammatory agent and was a factor in the significantly increased exercise performance compared with untreated groups.
Researcher and investigator Dr. Kaj Winther, of the Frederiksberg Hospital, University of Copenhagen, Denmark believes that rose hips may hold the key to a natural anti-inflammatory agent that can alleviate degeneration of joint material.
"We have little doubt that certain rose hip preparations, and GOPO(R) in particular, have had an important role to play in reducing the pain and disability associated with some joint conditions," said Winther. "The results of these new studies suggest that the primary mechanism of action of rose hips is to reduced inflammation and protect joint tissue from damaging substances produced by an over-active immune system."
With the aid of this new research, those affected by joint pain caused by arthritis could opt for an alternative treatment than stressors such as pain killers, steroids or other anti-inflammatory medication. "We…suspect that more people will be turning to the power of rose-hip for joint pain relief," said Winther.
Sorry Shakespeare, but in this case, no other rose could smell as sweet.
Video: All About Arthritis
Erin Richards blogs for Scientific Blogging.
Stay up to date on the latest science news by signing up for our Essentials newsletter.