Spring Flooding Underway for Dakotas, New England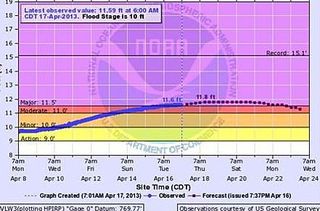 (Image credit: NOAA)
This article was provided by AccuWeather.com.
Spring flooding is beginning to impact areas on par with predictions made by AccuWeather.com and NOAA last month. Rain and snowpack have contributed to flood warnings for parts of the Merrimack River in Massachusetts, tributaries of the Red River in North Dakota and Rock River in Wisconsin.
For the Northeast, there is still a large amount of saturated snowpack in Maine and the White Mountains of New Hampshire. While much of Maine's snowpack will melt into Canada, moderate temperatures have left New England grounds wet. It's been warm enough for snow to melt, but not warm enough for quick evaporation. This has led to a moderate risk of flooding for the Merrimack River, which flows from New Hampshire into Massachusetts. The Merrimack was recently recorded just below flood levels in Lowell, Mass., but, thanks to New Hampshire's many lakes, their flooding risks are lower.
"The lakes region has a lot of areas for meltwater to go," AccuWeather Meteorologist Jim Andrews said. "They act as a sponge of sorts, absorbing extra water."
The Red River will continue to be an area of concern this season, as the northern Plains began spring with high levels of water in their snowpack and have not had much reprieve from continual snowfall. Andrews says that everything will be determined by how the snow melts.
"There's the potential for it to go quietly," he said. "If they see warm days and cool nights with little extra precipitation, flooding will still occur, but it would be slow and not catastrophic. If they see frequent warm rains, that's going to lead to problems."
For the next week, they can anticipate temperatures staying low enough to avoid rapid melting risks, but following the recent record-level snowfalls when temperatures do warm they will need to be monitored closely. Currently, the Red River's major flood warning for is for two locations on one of its tributaries, North Dakota's Devil Lake.
Since the area is no stranger to flood risks, they do have a contingency plan. Flooding on the Red River tends to be slow, which is good for allowing time to evacuate areas and implement plans. It does have a down side, however, as the slow flooding is also slow to recede.
One of the main areas for concern for flooding will be the city of Fargo. At 19 feet, the dam will flood. By 23.3 feet, the North Broadway Bridge floods as well. At 30 feet, they reach major flood stage and streets begin to close. As part of their ongoing flood control projects, they activate pump stations, starting when the river reaches its action stage at 17.7 feet. As needed, they will also move to build sandbag levees. At this time, the river sits at 15.8 feet at Fargo.
Meanwhile, parts of the Mississippi River are approaching flood levels, and with more rain set to move in, they may reach it in days. Areas near Dubuque, Iowa, are expected to crest Friday into Saturday. Currently, the river at this location has reached 14.25 feet. Its action stage is 15 feet, with 17 feet being a moderate flood stage.
Depending on how quickly the river floods to the north will affect how it floods farther down stream. If the slow-moving river floods at high levels in Dubuque, it may take weeks instead of days for flooding to move down to St. Louis, where flood levels are only 5 feet away.
Last year, with its incredibly low snow amounts, there was significantly less flooding across the country. This year it will be critical for areas that are prone to flooding to monitor their rivers and be prepared to quickly begin their emergency plans.
© AccuWeather.com. All rights reserved. More from AccuWeather.com.
Stay up to date on the latest science news by signing up for our Essentials newsletter.