Remains of 'Whispering Death' WWII Plane Found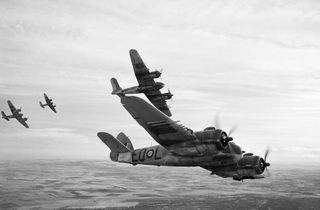 (Image credit: Imperial War Museums)
The remains of a British World War II aircraft known as "Whispering Death" have been rediscovered in Italy by a group of amateur researchers.
Consisting of parts of the fuselage and the propeller, the remains were actually found years ago in the small village of Gusano, in the Apennines mountains south of Piacenza, by aviation war enthusiast Francesco Lazzarelli. Nearly forgotten, they were recently rediscovered by another amateur researcher, Cristiano Maggi.
"Such remains are quite rare. Usually we find only small pieces of war planes as the wreckages were often recycled by the population to make tools," Maggi told Discovery News.
With the help of another group, the Air Crash Po wreck hunters from Cremona, Maggi and his team were able to identify the remains as belonging to a British night fighter plane, a Bristol Beaufighter Mk X.
BIG PIC: WWII Fighter Plane Recovered
Archival research and witnesses revealed the two engine plane crashed on Sept. 6, 1944, killing Flight Sergeant John Horsford and Warrant Officer John Watson.
"It was quite an event as it crashed close to the village," Maggi said.
Belonging to the RAF's 272 Squadron, which at that time was operating from Alghero, Sardinia, the Beaufighter was widely used to detect and destroy surface targets.
"The Japanese nicknamed this plane 'Whispering Death' due to the speed at which it could suddenly appear, strike and disappear," Agostino Alberti of the Air Crash Po group told Discovery News.
Why the plane crashed remains unknown.
"It could have either been a human error or a plane breakdown," Maggi said.
ANALYSIS: New 3D Map of Civil War Shipwreck Released
Flight Sergeant John Horsford, 21, from Oundle, Northamptonshire and Warrant Officer John Watson, 26, of Jordanhill, Glasgow, died in the crash and were buried at the local cemetery.
At the end of the war, their remains were moved to the monumental Staglieno Cemetery in Genoa.
"According to the London Gazette, Horsford was awarded the Distinguished Flying Medal after his death. We would like to contact the relatives of these airmen to reconstruct their history," Alberti said.
Anyone who has any information can contact Alberti at ago109@teletu.it.
NEWS: Dogfight Over Buried WWII Spitfires in Burma
His group has been hunting for crashed World War II aircraft and researching the air war over northern and central Italy since 2007.
The remains of the "Whispering Death" plane will be soon displayed in the Museo Resistenza Piacentina, near Piacenza.
"Although only a few parts survived, it remains quite a unique find," Maggi said.
Indeed, of about 6,000 Bristol Beaufighters produced worldwide between 1940 to 1946, only six have survived.
This story was provided by Discovery News.
Stay up to date on the latest science news by signing up for our Essentials newsletter.