As Weather Changes, Forecasts Lag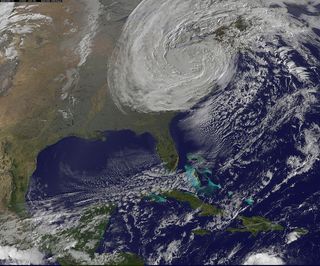 (Image credit: NOAA/NASA GOES Project)
Nancy Colleton, President of the Institute for Global Environmental Strategies, contributed this article to LiveScience's Expert Voices: Op-Ed & Insights.
Whether fiscal, political or global, we are living in an environment of change. Unfortunately, although our natural environment is changing drastically, our national response to deal with it is not.
During last Thursday's House Appropriations Subcommittee hearing on the fiscal year 2014 budget, Chairman Frank Wolf and Ranking Member Chaka Fattah cautioned those present that the nation's fiscal situation simply will not allow for new funding or the expansion of programs. As I sat there listening in full agreement, I couldn't help but wonder why there haven't been more solutions put forward to improve current investments in numerous areas related to commerce, justice and science. Surely, this is a problem we — the most technologically advanced nation in the world — can fix.
Our environmental information capability is a good example. Extreme weather and climatic events have had tremendous social and economic impacts on the nation. Numerous respected institutions, such as the National Research Council and the Government Accountability Office (GAO), have repeatedly called attention to the decline of U.S. Earth-monitoring capabilities such as vital weather satellites. Yet, we have not seen any change in how that investment is made or managed.
Just two weeks ago, GAO added weather satellites to its high-risk list, citing concerns over a potential gap in weather satellite coverage of 17 to 53 months beginning in 2014. As reported broadly through the media these last few weeks, our nation has now fallen behind Europe in weather forecast modeling. The Reinsurance Association of America estimates the insured value of U.S. coasts at $9 trillion, yet the country has only a small, emerging, operational ocean-observing capability. Despite more than 60 percent of the continental U.S. experiencing drought last summer, our national drought monitoring and forecasting capabilities continue to face funding challenges.
Finally, while more and more national security experts identify climate change as a major threat, the country has yet to establish an operational long-term forecasting capability. Our nation's annual investment in that area is estimated at $3 billion, spread across 17 federal agencies. Considering the following statistics from Munich Reinsurance's U.S. Natural Catastrophe Update for 2012, shouldn't we be asking whether this amount, and how it is being invested, is adequate to protect America's future?
Insured losses in the United States in 2012 totaled $58 billion — far above the 2000 to 2011 annual average loss of $27 billion (in 2012 dollars).
Hurricane Sandy made landfall in New Jersey, becoming the worst storm to hit the northeastern United States since the Great New England Hurricane of 1938, and causing insured losses in excess of $25 billion.
Despite a relatively quiet year for tornadoes, insured losses from thunderstorm events exceeded $14 billion, the second-highest annual total on record.
Severe drought crippled agriculture over a large section of the central United States.
Dry conditions led to the most damaging wildfires in Colorado history.
One major step forward would be to task the Secretary of Commerce with developing a long-term, comprehensive national strategy for environmental intelligence — the most timely and accurate information about the planet that enables improved decision-making. This intelligence results from a critical but fragile supply chain that begins with science and observations, and ends with actionable information.
The strategy should:
Ensure that the nation has the long-term observational capabilities, such as weather satellites and ground-based instruments, which are needed to better manage risk;
Call on the private sector — industry, academia and non-governmental organizations — to develop new, innovative and cost-effective approaches to environmental monitoring, data and information management, and analysis and information product development and delivery;
Improve U.S. environmental modeling and prediction capabilities in weather and other areas, such as climate, water and oceans;
Establish a national environmental information architecture that enables improved data access, integration and delivery;
Ensure that national investment in these vital programs goes beyond science to meet the needs of businesses, state and local governments, and non-governmental organizations;
Ensure that successful environmental-information capabilities and processes developed for defense and intelligence purposes are transitioned to the civilian sector;
Examine new leadership and governance strategies that will allow for greater exploitation of precious national investment and greater engagement with the private sector; and
Call on leaders in business, science, technology and policy to assist the administration in charting a new path for U.S. environmental intelligence capabilities.
Congress and the administration face many challenges. However, our ability as a nation to protect life and property, as well as grow the economy, is dependent upon the application of the most accurate, timely and comprehensive environmental information. It's time to think about how we can do it better.
The views expressed are those of the author and do not necessarily reflect the views of the publisher.
Stay up to date on the latest science news by signing up for our Essentials newsletter.