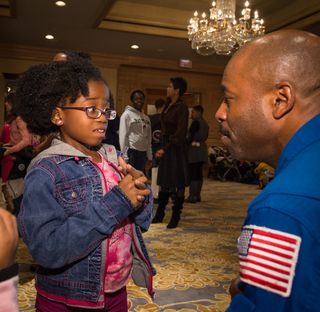 (Image credit: NASA/Bill Ingalls)
A new online petition asks the White House to repeal budget cuts that have spurred NASA to suspend many of its education and public-outreach efforts.
The petition was created on Friday (March 22), the same day that NASA issued two internal memos outlining how outreach activities are being scaled back as a result of sequestration, the set of across-the-board federal cuts that took effect March 1. The memos began circulating outside the agency Friday as well.
"The sequester's recent cuts on NASA's spending in public outreach and its STEM [science, technology, engineering and math] programs must not be allowed," the petition states. "These cuts would end the many programs NASA has for educating the children of our society, as well as many other forms of public outreach held by NASA."
NASA officials have stressed that the agency is suspending rather than terminating many of its outreach programs. And some activities are exempt from the suspension, including websites and social media accounts that are already up and running, such as the Mars rover Curiosity's award-winning Twitter feed. [Curiosity Rover's Latest Amazing Mars Photos]
The petition was submitted through the White House's official "We the People" site, which promises an administration response to any petition that garners at least 100,000 signatures within 30 days. As of today (March 27), the NASA education petition has gotten about 5,800 people to sign on.
Some organizations are already taking steps to help fill the education and public outreach (EPO) gap that NASA's suspension has created.
Space-funding company Uwingu, for example, announced Monday (March 25) that money raised by its public contest to name Alpha Centauri Bb — the closest known exoplanet to our own solar system — will be put toward grants for EPO projects and personnel affected by NASA's cutback.
"At Uwingu, we believe that private and commercial funding of space-based initiatives — including research and EPO — is more important now than ever," company CEO Alan Stern, a former NASA science chief and head of the agency's New Horizons mission to Pluto, said in a statement.
Sequestration is imposing budget cuts across many federal agencies and institutions. NASA's budget is taking nearly a billion-dollar hit, dropping to $16.9 billion from the $17.8 billion that Congress approved last year.
All of the space agency's activities are being cut by the same amount (5 percent), as NBC News' Alan Boyle points out. So we may see other petitions pop up when people learn exactly how the sequester is going to affect NASA's science and exploration plans.
This story was provided by SPACE.com, sister site to Live Science. Follow Mike Wall on Twitter @michaeldwall. Follow us @Spacedotcom, Facebook or Google+. Originally published on SPACE.com.
Stay up to date on the latest science news by signing up for our Essentials newsletter.

Michael was a science writer for the Idaho National Laboratory and has been an intern at Wired.com, The Salinas Californian newspaper, and the SLAC National Accelerator Laboratory. He has also worked as a herpetologist and wildlife biologist. He has a Ph.D. in evolutionary biology from the University of Sydney, Australia, a bachelor's degree from the University of Arizona, and a graduate certificate in science writing from the University of California, Santa Cruz.