Could an Avocado a Day Keep the Doctor Away?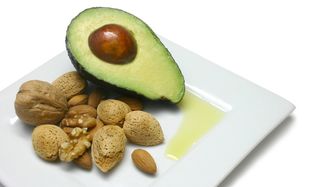 Eating avocados regularly may improve the quality of your diet and some key heath markers, according to a new analysis.
After crunching the data from the National Health and Nutrition Examination Survey (NHANES) from 2001 to 2008, researchers found that eating avocados was associated with an overall better-quality diet; higher levels of HDL (the "good" cholesterol); a lower risk of metabolic syndrome; and a lower body weight, body mass index (BMI) and waist circumference.
Metabolic syndrome, characterized by a cluster of symptoms, raises a person's risk for heart disease. The symptoms include blood pressure higher than 130/85 mmHg; a fasting blood glucose level of 100 mg/dL or higher; a waist circumference of 40 inches or more in men and 35 inches or more in women; HDL ("good") cholesterol levels of less than 40 mg/dL in men and less than 50 mg/dL in women; and triglyceride levels of 150 mg/dL or higher. A person with three or more of these symptoms is diagnosed with metabolic syndrome.
The Hass Avocado Board supported the study. Findings were published in the recent issue of Nutrition Journal.
For the current analysis, researchers examined the diet quality of 17,567 adults ages 19 and older who participated in the NHANES survey. Of these, 347 (2 percent) ate avocados. Their mean daily avocado intake was about half of a medium avocado, containing about 114 calories, half of which come from fat.
NHANES interviewers gathered nutrition information based on 24-hour dietary recalls. The NHANES program of studies regularly assesses the health and nutritional status of adults and children in the United States. Researchers calculated diet quality using the USDA's Healthy Eating Index, which indicates how closely diets follow the Dietary Guidelines for Americans.
The study reported that people who ate avocados had significantly higher intakes of fruits and vegetables in general, and lower intakes of added sugars. The avocado eaters also had higher intakes of total fat, monounsaturated fat, polyunsaturated fat, dietary fiber, vitamin E, magnesium, potassium and vitamin K, along with a lower intake of carbohydrates.
Avocados are rich in monounsaturated fat, which has been associated with a lower risk of heart disease. Previous research elsewhere has found an estimated 19 percent reduction in the risk of coronary disease when the intake of monounsaturated fat is increased by 5 percent, the current researchers wrote.
Avocado eaters also fared well in the weight department. People who ate avocados weighed on average about 8 pounds less than non-avocado eaters. The avocado group also had a lower BMI, 26.7 versus 28.4, and their waists were about 2 inches narrower. Finally, these respondents had higher HDL levels: an average of 55 mg/dL compared to 52.6 mg/dL for people who didn't eat avocados.
The study does not prove a cause and effect relationship, only an association. The researchers acknowledge that the people in the study may not have accurately recalled what they ate; what's more, the pool of avocado eaters was small.
Still, the results are intriguing. "These findings suggest a role for avocados in improving dietary quality and possibly reducing the risk of metabolic syndrome in the United States," the researchers wrote. "Further research is needed to verify this epidemiological data and study the potential association between increased intake of avocados and other dietary components."
Pass it on: Eating avocados may raise "good cholesterol" levels, lower BMI and reduce the risk of metabolic syndrome.
This story was provided by MyHealthNewsDaily, a sister site to LiveScience. Follow MyHealthNewsDaily on Twitter @MyHealth_MHND. We're also on Facebook & Google+.
Stay up to date on the latest science news by signing up for our Essentials newsletter.