Amsterdam Bans Pot Smoking in Schools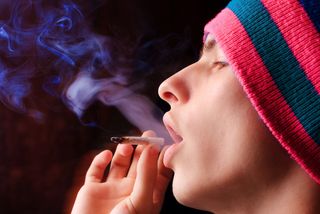 (Image credit: <a href="http://www.shutterstock.com/gallery-229381p1.html">Igor Kolos</a> | <a href="http://www.shutterstock.com/">Shutterstock</a>)
People could be forgiven if the convoluted legal status of marijuana is killing their buzz. Just as pot laws in Colorado and Washington are mellowing out, regulations in other places seem to be getting really uptight.
Amsterdam is a world-famous bastion of lax marijuana rules — the Dutch city's coffee shops, where weed is readily available for sale, are renowned tourist destinations. And though the Netherlands recently enacted a nationwide ban on sales of marijuana to foreign tourists, Amsterdam's mayor has stated the ban won't be enforced in his city, a move that has many tourist-dependent coffee shops breathing a sigh of relief.
But there are limits to Amsterdam's liberal attitudes, and Mayor Eberhard van der Laan has announced that students will now be forbidden from smoking pot in school. "It's not really what you have in mind as an educator, that children would be turning up for class stoned, or drunk either for that matter," city spokeswoman Iris Reshef told the Associated Press. "But it has been a problem for some schools."
In the November elections in the United States, residents of Washington state and Colorado voted to legalize marijuana for recreational use. The two ballot initiatives have sparked a debate about whether federal anti-pot laws should be enforced in those states. (Medical marijuana is currently legal in more than 15 states.)
Some business owners in Washington are rolling out storefronts to take advantage of the state decriminalization of recreational pot use. Frankie's Sports Bar & Grill in the state capital, Olympia, has opened a special second-floor private room named Friends of Frankie's, available to those who pay a $10 membership fee, where smoking weed is allowed. The room also serves alcohol and hard-to-resist munchies like breaded cheese sticks.
Owner Frank Schnarr isn't motivated by his love of pot, however. "I'm about to lose my business," Schnarr told CNBC. "So I've got to figure out some way to get people in here."
Stay up to date on the latest science news by signing up for our Essentials newsletter.
Marc Lallanilla has been a science writer and health editor at About.com and a producer with ABCNews.com. His freelance writing has appeared in the Los Angeles Times and TheWeek.com. Marc has a Master's degree in environmental planning from the University of California, Berkeley, and an undergraduate degree from the University of Texas at Austin.