Satellites Track Post-Sandy Pollutants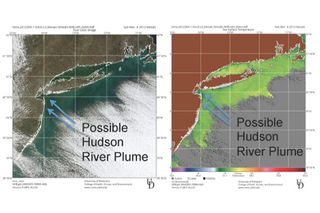 (Image credit: University of Delaware)
More than two weeks after Hurricane Sandy, now that its floodwaters have receded and the region's utilities and transportation systems have largely been restored, researchers and authorities are beginning to look at Sandy's other effects.
One of those more lasting — and even less appealing — problems: sewage, sediment and other pollutants churned up and swept into waterways by the storm.
"We tend to think of events like Sandy in terms of the ephemeral effect of the wind, rain, waves and even snow as it swept through our communities, but in fact this superstorm can have a longer-term effect in the large pulse of sediment and associated pollutants swept into our waterways," Marcia McNutt, U.S. Geological Survey director, said in a statement.
Damage from Hurricane Sandy took several wastewater treatment plants offline in New Jersey, and raw sewage carrying high levels of bacteria and viruses emptied into some waterways in the northern part of the state. Scientists estimate millions of gallons of sewage were spewed into New Jersey's rivers, streams and estuaries.
Researchers have been using satellites to trace the path of sewage- and sediment-laden water as it flows toward the Atlantic Ocean. [Sandy Aftermath Video: NYC Subways Submerged]
"Plumes of freshwater carrying a lot of sediment typically have a murky, tan color," said Josh Kohut, an oceanographer at Rutgers University. "The plume contrasts with the much bluer ocean water, and you can see it from space."
Kohut is part of the Mid-Atlantic Regional Association Coastal Ocean Observing System, which has been using satellite imagery to track the aftereffects of Hurricane Sandy. They can't directly spot sewage in the images, but they can see freshwater plumes that are most likely carrying sewage, sediments and other pollutants. The New Jersey Department of Environmental Protection and the U.S. Geological Survey will use this and other data to determine which areas they should monitor closely for pollutants.
Tracking freshwater plumes post-Sandy was challenging because the region was extremely cloudy for several days, which made clear satellite images hard to come by, Kohut said.
But the images they did obtain told a somewhat optimistic story. Sewage overflows aside, Sandy doesn't appear to have dumped much more sediment and pollution into the waterways than a typical rainstorm would, he said. Instead of a large plume entering New York Harbor, the team spotted more localized plumes from smaller inlets such as the Manasquan Inlet and Barnegat Bay, both off the coast of New Jersey.
"Irene last year, Ernesto in 2006 and Floyd in 1999 were all major, major rain events for New York and New Jersey. Following each of those, you saw a big pulse from rivers into the ocean," Kohut told OurAmazingPlanet. "Sandy was less a rain event and more of a wind and surge event."
This story was provided by OurAmazingPlanet, a sister site to LiveScience. Follow OurAmazingPlanet on Twitter @OAPlanet. We're also on Facebook and Google+.
Stay up to date on the latest science news by signing up for our Essentials newsletter.