NYC Museum Celebrates Teddy Roosevelt's Conservation Work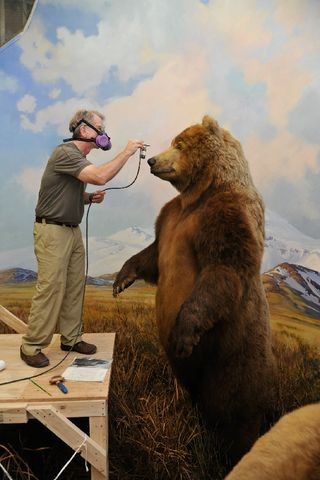 (Image credit: © AMNH/D. Finnin)
NEW YORK — The natural world was a lifelong passion for U.S. President Theodore Roosevelt. At age 8, Roosevelt started his own collection of natural history specimens, and on his deathbed, he was writing a book review about pheasants.
Some of the specimens he collected, as well as other Roosevelt artifacts, remain at the American Museum of Natural History, an institution with which he had a lifelong association.
The 26th president and his legacy are memorialized in a number of places throughout the museum. That memory has received a $40 million restoration, unveiled Thursday (Oct. 25) in a ceremony featuring city and state officials.
At the ceremony here, the museum unveiled a host of upgrades and additions, including a new statue of the former president seated on a bench, and new displays featuring artifacts from his life, such as a buckskin jacket and specimens he killed and prepared as a young naturalist and taxidermist, such as a snowy owl. [See Photos from the Teddy Exhibit]
Roosevelt, who served as president from 1901 to 1909, has been called the "Conservation President" and the "biologist-in-chief." In office, he set aside five national parks, only part of the more than 230 million acres he placed under federal protection, officials said.
Roosevelt's father helped found the museum, and Roosevelt himself contributed specimens when he was only 13 years old. He would later return to the museum with questions, such as how to save a particular bird species he had studied, and join forces with its scientists, said Douglas Brinkley, Roosevelt biographer and professor of history at Rice University.
Today also marked the reopening of the museum's Hall of North American Mammals, which contains dioramas depicting landscapes Roosevelt explored and preserved through his conservation policies, said Michael Novacek, a senior vice president at the museum.
The dioramas offer glimpses of unique North American environments and their inhabitants, depicting, for example, wolves running across the snow-covered southern shore of Gunflint Lake in northern Minnesota under the moonlight, or a pair of bull moose clashing in the Alaskan wilderness while a female looks on.
Sixty years after the hall opened, these scenes need more than simple repairs and touch-ups to color, since biologists' understanding of the animals has advanced dramatically since 1942, Ross MacPhee, curator of mammalogy, told visitors.
The designers of the moose diorama focused on the bulls' combat, setting a female off to the side watching passively.
"In the last 60 years, we have learned a lot about moose behavior, just as we have learned a lot about mammals in general," MacPhee said. "With our new text panels, we are able to tell a slightly different story."
Biologists now know cows, or female moose, play an active role in determining which males get to mate, rather than passively accepting the winners of a battle like the one depicted in the diorama.
In some circumstances, "if she makes the decision these guys really don't have what it takes, she will emit this peculiar, low moaning noise and that will be picked up by all the guys in the background, who are looking on and it is an announcement to them they can come forward and give it their best shot," he said. [Dissecting Decibels: Loudest Animals Infographic]
Dioramas may seem old-fashioned, but they have a theatrical quality that engages museum visitors' imaginations and allows them to see a scene from a variety of angles, something that is not feasible with a nature documentary, MacPhee said.
Each diorama depicts a specific place and time, said George Dante, president of Wildlife Preservations and a taxidermist involved in the restoration.
"You can actually find this exact location and see how it has changed over time," Dante said.
Over the years, the lights in the hall burnt out the pigments in the fur of most of the taxidermied animals in the dioramas.
"With the help of [the] scientific department, we were able to get study skins that were not faded and compare them against these specimens and then develop a coloring process where we went in and actually recolored the specimens to bring them up to a more accurate color," Dante said.
Follow LiveScience on Twitter @livescience. We're also on Facebook & Google+.
Stay up to date on the latest science news by signing up for our Essentials newsletter.
Wynne was a reporter at The Stamford Advocate. She has interned at Discover magazine and has freelanced for The New York Times and Scientific American's web site. She has a masters in journalism from Columbia University and a bachelor's degree in biology from the University of Utah.