Google Goes Diving on The Great Barrier Reef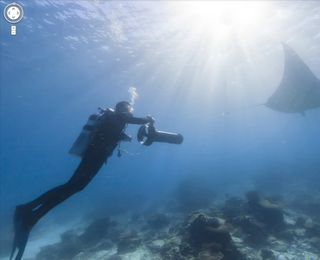 (Image credit: Google.)
Anyone who wanted to see the Great Barrier Reef up close but got hindered by factors like finances or asthma has a new chance. Google just unveiled underwater views of the reef. Just in time, too, as environmentalists fight a mine proposal that they say could destroy it all.
PHOTOS: The Unexpected Beauty of Coral Crustaceans
For the first time, Google Maps is showing underwater, 360-degree panoramic views of the Great Barrier reef and five other well-known reefs around the world. The images were made in collaboration with the Caitlin Seaview Survey, a scientific study intended to reveal ocean life and address questions about the changes associated with rapidly warming and acidifying oceans.
In addition to carbon pollution and warming, environmentalists have a new worry about the Great Barrier Reef's future. Nine coal mines, dubbed "mega-mines," have been proposed for the Galilee Basin in Queensland, Australia. The Guardian, calling the plans part of a "new Australian coal export rush," reported that the mines would produce 330 million tons of coal annually.
Greenpeace called the Australian mega-mine proposition "reckless" and potentially "catastrophic" in a report released last week. The organization predicts the coal basin will become the world's seventh-largest emitter of carbon dioxide pollution from fossil fuels. The CO2 emissions, the new port terminals, the seafloor dredging, and increased ship traffic through whale habitats would all put the Great Barrier Reef World Heritage Area in danger.
The Australian coal industry dismissed Greenpeace's numbers as "mythical" and accused the organization of scaremongering.
Recently the UN weighed in on the proposal. Its World Heritage Committee urged Australia not to permit any new port development or associated infrastructure beyond existing and long-established major port areas. Still, at least one part of the mega-mines proposal is moving ahead. In August, the $7.1 billion Alpha mine got state and federal approval.
PHOTOS: Ocean Artists Convey Horror and Magic
Pollution and politics aside, the Great Barrier Reef can be a dangerous place to visit in person. Last week a Chinese tourist drowned during a tour. For me, at least, a virtual visit seems like the safest way to see it. That said, if all the mega-mines get built, Google's underwater views might be all that remains.
This story was provided by Discovery News.
Stay up to date on the latest science news by signing up for our Essentials newsletter.