Bill Gates Envisions Cars that Can't Crash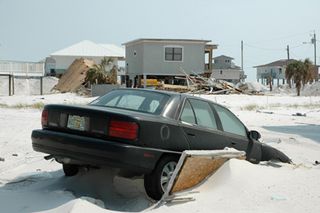 (Image credit: FEMA/Dave Saville)
DEARBORN, Mich. (AP) _ Microsoft Corp. mogul Bill Gates and the leader of Ford Motor Co. outlined a future Friday in which software enables cars to fix themselves and avoid accidents.
Gates and Bill Ford Jr., Ford's chairman and chief executive, said high-definition screens, speech recognition technology, cameras, digital calendars and navigation equipment with directions and road conditions will set car companies apart from their competitors.
Eventually, Gates said, there could be a car that wouldn't let itself crash.
"That absolutely should be the goal,'' Gates told several hundred participants of the Microsoft Global Automotive Summit at the automaker's suburban Detroit campus. "The embrace of technology will be the key for the leaders of the industry.''
Also on Friday, Microsoft unveiled its Performance Peak Initiative _ a line of computer systems to help the auto industry better coordinate supply chains, streamline design, production and sales and fill vehicles with computer gadgets.
The company said its technology is currently in 25 vehicle devices from 13 automotive companies.
Microsoft also owns MSN Autos, a vehicle information and buying network.
Stay up to date on the latest science news by signing up for our Essentials newsletter.