Animal Illustrations Preceded Poet's Nonsense Verse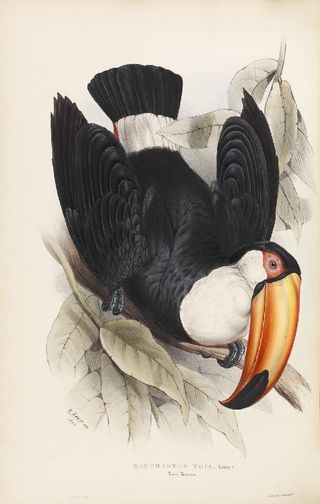 (Image credit: © The Royal Society)
The whimsical children's classic "The Owl and the Pussycat," whose verses describe an interspecies courtship, does not seem particularly grounded in nature.
But its author, the 19th-century poet Edward Lear, began his career as a scientific illustrator. He created illustrations of animals for scientists in the 1830s and 1840s.
"What they are really distinguished by is his very, very close attention to detail," said Jonathan Ashmore, a professor at the University College London and a fellow at The Royal Society, which is hosting an exhibition of Lear's scientific illustrations.
"He was also very interested in seeing birds and animals in natural positions. There are stories of Lear getting inside the cage," Ashmore said. [See Images of Lear's Work]
The exhibition's centerpiece is a two-volume folio, "Gleanings from the Menagerie" and "Aviary at Knowsley Hall" (1846). Records at the Royal Society Library show that in the 1850s, Charles Darwin checked out both volumes, Ashmore said.
Vestiges of this work showed up later in the illustrations that accompanied Lear's nonsense poetry. For "The Owl and the Pussycat," Lear used an Eastern grey horned owl as a model for the female cat's suitor, Ashmore said.
As an auditory neuroscientist, Ashmore said he can see evidence of Lear's attention to detail.
Owls' ears are unevenly placed within the ruff of feathers around their faces, and Ashmore believes Lear picked up on this left-right asymmetry.
"I don't want to make too much of this," Ashmore wrote in an email to LiveScience. "It just seemed to me that Lear's pictures do show the light falling differently on the left and right."
The asymmetry in their ears helps owls to home in on a sound's source.
The Royal Society's exhibition, "Edward Lear and the Scientists," is on display at the Society's Marble Hall in London until Oct 26. It honors the 200th anniversary of Lear's birth in 1812.
Follow LiveSciencewriter Wynne Parry on Twitter @Wynne_ParryorLiveScience @livescience. We're also on Facebook & Google+.
Stay up to date on the latest science news by signing up for our Essentials newsletter.
Wynne was a reporter at The Stamford Advocate. She has interned at Discover magazine and has freelanced for The New York Times and Scientific American's web site. She has a masters in journalism from Columbia University and a bachelor's degree in biology from the University of Utah.