Sharks' Awesome, Eerie Beauty Captured in Dive Photo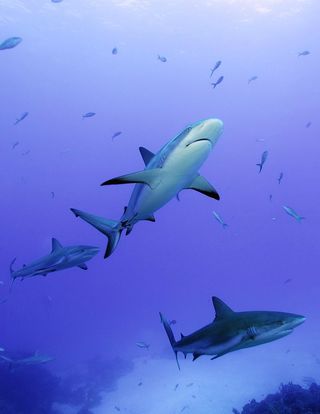 (Image credit: Neil Hammerschlag.)
Yes, they're real. This otherworldly photograph of three reef sharks is the handiwork of shark researcher Neil Hammerschlag, an assistant research professor at the University of Miami.
Hammerschlag captured the photograph on a late afternoon dive in the Bahamas in 2010, after the hard work of a research trip in the area was done.
"That day the water was crystal clear — there was about 200 feet [60 meters] visibility," Hammerschlag told OurAmazingPlanet. "And once we accomplished our research goals, we decided to get in the water and swim with these beautiful creatures."
The team had placed crates of minced fish near the reef, which drew a crowd of the reef sharks in close.
"When they aggregate they get very curious," Hammerschlag explained. "They feel a little more safe with a bunch of their friends around, so they swim by and give you close passes and give you a great opportunity to take pictures of them," he said.
The sharks in the photograph are about 6.5 feet (2 m) long, about average for reef sharks, one of the most common shark species found in the area.
Hammerschlag posted the indigo-hued image on the photo-sharing site Instagram a few days ago, following the publication of a paper he authored on high levels of neurotoxins found in shark fins.
Millions of sharks are killed each year for their fins, long considered a delicacy in shark-fin soup. Shark populations around the globe have declined steeply, and some species are severely threatened.
The scientist said he wanted to take advantage of the flurry of attention focused on sharks to also showcase their beauty.
As for diving with his research subjects, Hammerschlag said it's an exhilarating experience.
"It's just a great feeling to share the space with animals that you study," he said. "It gives you a whole new respect and heightened appreciation for the animals."
Reach Andrea Mustain at amustain@techmedianetwork.com. Follow her on Twitter @AndreaMustain.Follow OurAmazingPlanet for the latest in Earth science and exploration news on Twitter @OAPlanet and on Facebook.
Stay up to date on the latest science news by signing up for our Essentials newsletter.
Andrea Mustain was a staff writer for Live Science from 2010 to 2012. She holds a B.S. degree from Northwestern University and an M.S. degree in broadcast journalism from Columbia University.