Invasive Creatures Attack Like Internet Viruses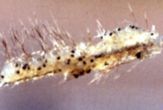 Finally, something good may come of all those computer viruses.
Bugs spread on the Internet can serve as a model for controlling invasive species, according to a new study.
Scientists used "network theory" to predict how the spiny water flea, native to Russia, will spread through lakes in Canada. The lakes are seen as nodes, which on the Internet are storage and rerouting locations. The flea, which has invaded dozens of lakes over the past two decades, is spread not by email but by humans, whose boats and trailers carry the critters from lake to lake.
"Some lakes invaded by the spiny water flea may serve as invasion hubs if departing boaters and anglers travel to large numbers of non-invaded destination lakes," write ecologists Jim Muirhead and Professor Hugh MacIsaac of the University of Windsor, Ontario.
Their study, announced Tuesday, is detailed in the British Ecological Society's Journal of Applied Ecology.
Muirhead and MacIsaac examined five bodies of water. Lakes Simcoe and Kashagwigamog are "likely to develop as invasion hubs because most boaters and anglers leaving these lakes travel to lakes that are still free from the spiny water flea," the scientists conclude.
The spiny water flea Bythotrephes cederstroemi, seen on a wire, is about 3/8 of an inch long. Credit: Minnesota Department of Natural Resources.
Another lake in central Ontario, called Muskoka, has already served as the hub of infection for 39 lakes since 1989. The flea, actually a tiny crustacean, first appeared in Lake Ontario in 1982. It has invaded at least 57 inland lakes and lake systems since then. Its eggs survive even after being dried out or eaten by fish.
The pest feeds on and can eliminate entire species of zooplankton, the backbone of any aquatic food chain.
"It quickly developed into a regional hub for two reasons," the scientists write about Lake Muskoka. "First, all of its outbound traffic was to non-invaded lakes and second, the total amount of traffic leaving this source was high."
Exactly the recipe for a good computer virus: Get the nasty code onto as many clean computers as possible as quickly as possible, by employing the most popular email programs.
In the natural world, the study should help officials control invasions by targeting management efforts at hubs.
In Minnesota, a cousin of the flea has also taken up residence in Lake Saganaga. Native to Europe, this one entered Lake Huron in 1984 -- likely in ship ballast -- and has spread to all the Great Lakes.
Stay up to date on the latest science news by signing up for our Essentials newsletter.
Robert is an independent health and science journalist and writer based in Phoenix, Arizona. He is a former editor-in-chief of Live Science with over 20 years of experience as a reporter and editor. He has worked on websites such as Space.com and Tom's Guide, and is a contributor on Medium, covering how we age and how to optimize the mind and body through time. He has a journalism degree from Humboldt State University in California.