Students Preserve Revolutionary War Shipwrecks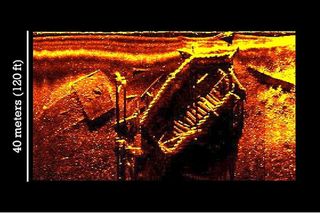 (Image credit: Courtesy of David Niebuhr/VIMS)
Middle- and high-school students are preparing to help conserve recently exposed shipwrecks from the last major battle of the Revolutionary War in Virginia's York River.
The Virginia students, from Point Option High School in Newport News, the Williamsburg Montessori Middle School, and Peasley Middle School in Gloucester, are traveling to the Waterman's Museum in Yorktown, near the shipwrecks, on field trips.
Their training will culminate when they deploy unmanned robotic submarines designed to gather data using sonar and high-definition video, which they will collect on an ongoing basis.
The information gathered by the robotic subs is expected to help monitor the conservation status of two recently discovered shipwrecks scuttled by the British commander Lord Cornwallis during the Battle of Yorktown in 1781.
Marine archaeologist John Broadwater discovered the two new wrecks a little more than a year ago, in 2010, and researchers believe they were exposed by strong currents during tropical storms. They worry that exposure to the elements may cause the shipwrecks to degrade rapidly. Previous work has revealed 10 other shipwrecks in the area, although Cornwallis is known to have sunk many more.
By mapping the outlines of the two newly discovered wrecks, the students will help conservators monitor the ships' condition and take preventive measures if necessary, according to a press release by Virginia Institute of Marine Science, which is partnering with the Watermen's Museum to create this opportunity for students.
The project is funded by a one-year grant from the National Science Foundation.
You can follow Live Science senior writer Wynne Parry on Twitter @Wynne_Parry. Follow LiveScience for the latest in science news and discoveries on Twitter @livescience and on Facebook.
Stay up to date on the latest science news by signing up for our Essentials newsletter.
Wynne was a reporter at The Stamford Advocate. She has interned at Discover magazine and has freelanced for The New York Times and Scientific American's web site. She has a masters in journalism from Columbia University and a bachelor's degree in biology from the University of Utah.