Now Hear This: Sonar Doesn't Hurt Fish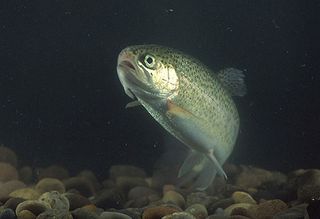 (Image credit: Ken Hammond, USDA.)
The military's use of sonar poses no threat to fish, a new study suggests.
The research was funded by the military, however, and was very narrow in scope: It involved only trout.
The finding, detailed in the July issue of the Journal of the Acoustical Society of America, showed that rainbow trout exposed to high-intensity, low-frequency sonar experienced only a small and presumably temporary decline in hearing sensitivity.
There has been considerable concern in recent years over the potentially damaging effects of man-made sounds on marine life. In the past, environmental advocacy groups have sued the U.S. Navy to halt underwater sonar use, claiming that the technology harms or even kills whales, dolphins and other forms of marine life.
The study was designed to explore the effects of Navy ship sonar on fish swimming nearby.
Investigators found no damage to the fish's inner ears after they underwent intense sonar exposure, even several days afterward. Andrew Kane of the University of Maryland, co-author of the research paper, examined other organs, such as the gills, heart and brain, and concluded that there were no ill effects on any of these tissues.
Still, the finding "should not be extrapolated to other fish species or the effects of other sound sources," said lead researcher Arthur N. Popper of the University of Maryland, citing differences in ear structures and hearing sensitivity among fish species.
Previous studies have shown that loud sounds, such as seismic air guns, can have either no effect on fish or result in a range of effects from temporary hearing loss to more lasting ear damage.
"The effects of sound on fish could potentially include increased stress, damage to organs, the circulatory and nervous systems," Popper said. "Long-term effects may alter feeding and reproductive patterns in a way that could affect the fish population as a whole."
Navy Sonar Likely Made Whales Flee
Animals Win: Navy to Cut Sonar Use
Did Sub Sonar Kill Dolphins?
Stay up to date on the latest science news by signing up for our Essentials newsletter.