Study Links Candy Cigarettes to Smoking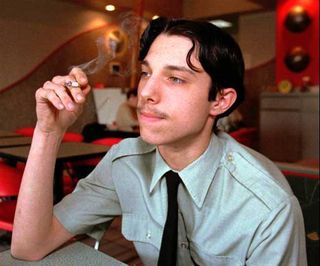 (Image credit: Associated Press)
Candy cigarettes predispose children who play with them to smoke the real things later, new research concludes.
The look-alikes made of candy or gum are marketing and advertising tools that desensitize kids and open them moreso to the idea of smoking later on, says study leader Jonathan Klein of the University of Rochester. Candy cigarettes cannot be considered simply as candy, Klein said.
The findings, from a nationally representative sample of 25,887 U.S. adults who were surveyed online via a Harris Poll, are detailed in the July issue of the journal Preventive Medicine.
The study is the first to show a statistical link between a history with fake cigarettes and adult experiences with real smokes—22 percent of current or former smokers had also regularly consumed candy cigarettes, while only 14 percent of those who have never smoked had eaten or played with candy cigarettes often or very often.
"The continued existence of these products helps promote smoking as a culturally or socially acceptable activity," Klein said in a prepared statement.
Philip Morris USA had no comment specifically on the study, said spokesman Bill Phelps, but he noted that the company has a youth smoking prevention program that features brochures and materials on the company's Web site to help parents talk to their kids about not smoking.
"We don't want kids to smoke," he said, "and we do not use fruit- or candy-flavor labels to market any of our tobacco products."
World Candies, a leading maker of candy cigarettes, was contacted for comment, but did not provide any before this story was published.
Tobacco use is the leading preventable cause of disease and death in the United States, according to the Centers for Disease Control and Prevention. The majority of smokers start before age 18, according to the Department of Health and Human Services and other sources. The survey by Klein and colleagues showed that candy cigarette use is more common among females.
Candy cigarettes reportedly have been restricted or banned in Canada, the United Kingdom, Finland, Norway, Kuwait and Saudi Arabia, among other countries. Legislative bans also have been proposed in several U.S. states and in New York City over the years, but all these failed except in North Dakota where a ban stood from 1953 until it was repealed in 1967.
In the United States, candy cigarettes are typically sold next to bubble gum and trading cards, but some retailers refuse to sell them. For instance, Wal-Mart bans the sale of tobacco and tobacco look-alike products to minors in its stores nationwide.
Video—Addiction: It's In Your Genes
Stay up to date on the latest science news by signing up for our Essentials newsletter.
Robin Lloyd was a senior editor at Space.com and Live Science from 2007 to 2009. She holds a B.A. degree in sociology from Smith College and a Ph.D. and M.A. degree in sociology from the University of California at Santa Barbara. She is currently a freelance science writer based in New York City and a contributing editor at Scientific American, as well as an adjunct professor at New York University's Science, Health and Environmental Reporting Program.