How to Stop Smoking: Simply Don't Plan On It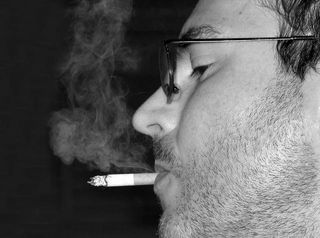 Want to quit smoking? Don't plan on it, and don't despair.
Recent research finds that a snap decision to quit smoking cigarettes is actually two to three times more effective than planning ahead for the big day.
Some smokers want to quit, but lack the motivation. Others have tried and failed. The trick, according to Robert West of University College London, is to let the motivation build ("This costs too much money," "I don't want to smoke around the kids ," "I'm afraid of cancer" and so on) and then seize the day when a trigger to put down cigarettes suddenly emerges.
"It very much goes against conventional wisdom in the field," West told LiveScience.
His research is based on interviews with 1,900 smokers and ex-smokers in England. He found that half of attempts to stop smoking involved no planning ahead and that unplanned attempts succeed for longer than planned attempts.
Sick and tired
About 23 percent of Americans smoke (the figure is 25 percent in England) despite the fact that quitting smoking extends life expectancy by up to 10 years.
Effective triggers to quit can be small, in West's view, such as just being sick and tired of being sick and tired from smoking. Or large, such as a physician's delivery of news of precancerous cell growth or high cholesterol.
Many experts have thought that the stopping occurs in stages that start with thinking about stopping, then planning an attempt to actually try to quit.
West's research found that unplanned attempts to quit succeeded even after adjusting for study variables such as age, sex and socioeconomics. Quitting is not a cost-benefit game in the minds of smokers, he says. "It depends on how people feel and that is a whole different ballgame."
West's work suggests a tipping-point approach to anti-smoking campaigns. He says public health workers should capitalize on smokers' latent desire to quit by putting the idea of quitting in their minds, raising smokers' motivational tension momentarily to a level that can overcome their resistance to quitting and then lowering the barriers to action—such as helping them to think, "Why not quit?".
(West's smoking research led him to write a recently published theoretical book on motivation and addiction.)
West also encourages the use of nicotine patches and other treatment and counseling to help quitters stay in remission. Recent research by Lawrence An of the University of Minnesota and Minneapolis Veterans Affairs Medical Center shows that smokers who receive encouragement via telephone counseling sessions are more successful at quitting smoking than those who do not.
The surgical approach
Surgery is also an effective trigger to quitting, other research shows. In fact, surgery is often one's best chance to quit smoking for good, according to David Warner of the Mayo Clinic.
Doctors have long known that nonsmokers and recent quitters recover better from surgery than smokers.
Warner's review of research also shows that patients who stop smoking prior to surgery have better success withdrawing from cigarettes.
"For people who have thought about quitting smoking, the time of their surgery is a good opportunity to do so," Warner said. The anesthesia used during surgery and recovery probably helps with the nicotine withdrawal and other discomforts associated with quitting.
"This increases the chance for long-term success with smoking cessation," Warner said.
It's still unclear if kicking the cigarette habit is within reach for everyone. Some smokers try to quit hundreds of time and never succeed for very long.
"However, we cannot say whether that is because the conditions for stopping were not right for them," West said, "and whether under different circumstances they might have succeeded."
Stay up to date on the latest science news by signing up for our Essentials newsletter.
Robin Lloyd was a senior editor at Space.com and Live Science from 2007 to 2009. She holds a B.A. degree in sociology from Smith College and a Ph.D. and M.A. degree in sociology from the University of California at Santa Barbara. She is currently a freelance science writer based in New York City and a contributing editor at Scientific American, as well as an adjunct professor at New York University's Science, Health and Environmental Reporting Program.