Deadly Dance Between Taliban and U.S. Forces Mirrors Predator and Prey Evolution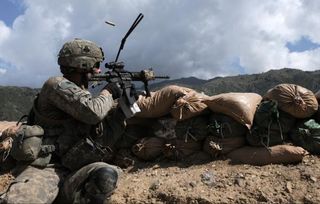 (Image credit: Staff Sgt. Gary A. Witte/U.S. Army)
Any complex task requires practice for improvement. This holds especially true on the battlefield, where combatants must constantly adjust in a deadly race to adapt to the other side's latest weapons or tactics. Such competition creates a predictable evolution often seen in biological systems; a pattern that a group of researchers believe can educate U.S. and coalition commanders about how successfully they are countering lethal insurgent attacks.
The rates of fatal attacks on coalition forces — more than 80 percent caused by roadside bombs — have followed that predictable learning curve pattern, and have remained surprisingly consistent in both the Afghanistan and Iraq theaters of war. By following this pattern that also exists in evolution and ecology to project future rates of fatal attacks, military commanders can identify if certain troop deployments, local aid projects or weapons can help lower the rate of fatal attacks.
Much of the operational data for Afghanistan and Iraq remains classified. But researchers have proven the consistency of the learning curve pattern by looking at the publicly known number of fatal attacks on coalition troops in Iraq and Afghanistan through 2010.
"We're simply identifying how the relative strength of forces is changing, and we also project how that relative superiority plays out going forward," said Brian Tivnan, a simulation engineer at the nonprofit MITRE Corporation in McLean, Va. "We stop short of identifying what the causes and effects are."
The Red Queen's race
The learning curve pattern is similar to the "Red Queen" hypothesis that suggests an arms race between predator and prey. In this case, Tivnan and colleagues modeled the real arms race between hypothetical Red Queen insurgents and "Blue King" coalition forces by measuring the race based on the rate of attacks that caused at least one fatality, rather than individual casualty counts.
"If the insurgency is inflicting fatal casualties at an ever-increasing rate, then the Red Queen has moved ahead in the race," Tivnan told InnovationNewsDaily. "When the Blue King has moved ahead in the race, then the ability of insurgents to inflict fatal casualties falls off over time."
The researchers found that the pattern held up even across different provinces of Afghanistan, as well as in both Afghanistan and Iraq. When one side began to gain the upper hand, researchers saw a similar shift in the data about fatal attacks across other provinces or theaters of war.
Such consistency can be explained by the coalition forces having more or less similar weapons and tactics in all those regions, Tivnan explains. The more diverse group of insurgents and terrorists ends up reacting and adapting to that common foe.
Looking to the future
The rate of fatal attacks dropped off in Iraq following the 2007 troop surge. Whether or not a similar 2009 troop surge has worked for Afghanistan is unclear in the data through 2010, Tivnan says. The researchers only looked at data through 2010 because that's when combat operations ended in Iraq, and when General David Petraeus replaced General Stanley McChrystal as top U.S. commander in Afghanistan.
That means the new study that appears in the June 30 issue of the journal Science doesn't say anything about the success of the Afghanistan troop surge. But Tivnan expects that military commanders or analysts could combine the study's methods and classified data to gauge such progress.
The Red Queen race does not necessarily apply to civilians who don't actively react and adapt to the new weapons or tactics brought to bear by the insurgents or coalition forces, Tivnan says. In other words, the Taliban attack with suicide bombers on the Intercontinental Hotel in Kabul on June 28 would not have fit in the researchers' latest study.
Still, the researchers have already begun different studies about how civilians play their own role in the ongoing battle between insurgency and counterinsurgency.
This story was provided by InnovationNewsDaily, sister site to Live Science. You can follow InnovationNewsDaily senior writer Jeremy Hsu on Twitter @ScienceHsu. Follow InnovationNewsDaily on Twitter @News_Innovation, or on Facebook.
Stay up to date on the latest science news by signing up for our Essentials newsletter.
Jeremy has written for publications such as Popular Science, Scientific American Mind and Reader's Digest Asia. He obtained his masters degree in science journalism from New York University, and completed his undergraduate education in the history and sociology of science at the University of Pennsylvania.