Fear of Risk Threatens Medical Innovation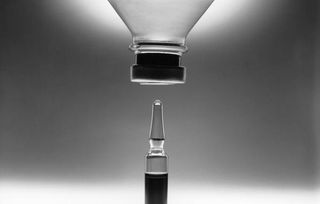 (Image credit: Bill Branson/National Cancer Institute)
The words "risk" and "medicine" usually appear in the same sentence only when describing some ghastly possible side effect, but the notion and the acceptance of risk are at the very heart of modern medicine. Society has gambled billions of taxpayer and private dollars each year to find new therapies and spent billions more on clinical trials to ensure only the safest, least risky drugs or devices eventually win government approval.
Now, experts say, there is an often-unspoken fear of risk that threatens to kill the spirit of biomedical innovation. Whether it's avoiding the risk of spending money on possible breakthrough treatments or trying to screen out risk by extending regulatory reviews of new drugs or vaccines, society has responded to that fear in ways that may keep innovation sidelined.
"As long as society is informed that risk and benefit travel together, and is made aware of their relative weights, then society can decide how to balance these two elements," said Elazer Edelman, a cardiologist and director of the Harvard-MIT Biomedical Engineering Center. "The failure to inform, the lack of understanding and the inability to recognize that there is this balance is the biggest problem."
Innovation means taking risks, Edelman says. He and other experts explain how society might overcome a fear of risk and renew innovation, in a series that begins in the June 29 issue of the journal Science Translational Medicine.
The first of the expert opinions focuses on the funding of biomedical innovation.
The problem with Big Pharma
Risk in modern medicine begins with developing new treatments, such as those that helped extend the lives of Americans by 3.25 months annually over the past century. But the supply of "wonder drugs" has dried up despite $150 billion in private and public funding spent in 2010. The Food and Drug Administration received just 23 applications for new drugs in 2010, compared with 45 in 1996.
Part of the problem comes from companies directing researchers to focus on drugs that meet market demand, said Bernard Munos, founder of the InnoThink Center for Research in Biomedical Innovation, in Indianapolis. That meant refocusing on so-called blockbuster drugs that create revenues of more than $1 billion per year, and cutting back on independent research.
Companies also wanted to cut back on the risks of running into dead ends when testing new drug candidates. They began looked to "safer" late-stage drug development by using known classes of drugs to create "me-too" drugs that might offer slight improvements for treatments already in existence.
But that timid strategy has backfired. Many drug candidates fail regulator standards because they don't offer significant improvement over existing drugs.
"You've got this paradox where a so-called 'low-risk' strategy of sticking to what you know — trying to replicate the breakthroughs or successes of the past by sticking to known families and known targets — is actually very risky," Munos told InnovationNewsDaily.
The industry needs to recognize that there is no low-risk strategy for drug development, Munos said; only good- and bad-risk. In that vein, some companies have begun reviving the entrepreneurial spirit of embracing disruptive innovation and reaching out to form "innovation networks" with smaller, more nimble companies and academic labs.
Restarting innovation in the lab
At the same time, academia and the National Institutes of Health also have faltered on innovation, said cardiologist Andrew Marks, a founder of the Wu Center for Molecular Cardiology at Columbia University.
NIH reviews tend to shy away from high-risk ideas among grant proposals. Marks remarked that the NIH probably would have declined to fund proposals for testing germ theory, seeing how antibiotics work, or exploring the DNA double-helix hypothesis.
Researchers need more time and stability to focus on their lab work without the pressure of constantly applying for grants, Marks said. The NIH might consider providing startup lab support for five years instead of the current three, or funding the top 30 percent of grant proposals each year at a consistent rate of $500,000 over 10 years.
Similarly, a separate pool of funds could go toward high-risk innovation grants awarded to the top 20 percent of applications. To win grants, applicants would have to show past productivity and the ability to create paradigm-busting research or to use out-of-the-box approaches and technologies.
Finally, scientists need to share more resources and ideas without fear of competition among labs, Marks said. The NIH could develop more centers to pool public-funded resources, such as chemical and small interfering RNA (siRNA) libraries, collections of already-approved drugs, animal models used to study human disease, and genetic and genomic data.
This story was provided by InnovationNewsDaily, sister site to Live Science. You can follow InnovationNewsDaily senior writer Jeremy Hsu on Twitter @ScienceHsu. Follow InnovationNewsDaily on Twitter @News_Innovation, or on Facebook.
Stay up to date on the latest science news by signing up for our Essentials newsletter.
Jeremy has written for publications such as Popular Science, Scientific American Mind and Reader's Digest Asia. He obtained his masters degree in science journalism from New York University, and completed his undergraduate education in the history and sociology of science at the University of Pennsylvania.