Mystery Surrounds Possible Oldest Church in North America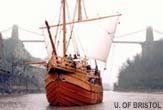 North America's oldest church may lie beneath a small town in Newfoundland, according to information cobbled together from the research of a historian who recently died before publishing her seminal work.
An Italian friar and sailing companion of explorer John Cabot erected the church during his second trip to the continent in 1498, according to the late Alwyn Ruddock, said Evan Jones, a University of Bristol researcher who investigated and pieced together Ruddock's notes.
"To describe Alwyn Ruddock's claims as revolutionary would not be an exaggeration," Jones said. "If Ruddock is right, it means that the remains of the only medieval church in North America may still lie buried under the modern town of Carbonear."
Ruddock, a historian with the University of London, was one of the world's foremost experts on Cabot's voyages until her death in late 2005. In keeping with her will, all of her research was destroyed when she passed away, including 40 years' worth of work for a book about the many mysteries surrounding Cabot's maligned 1498 expedition.
However, a book proposal Ruddock gave to her publisher and some e-mail correspondences survived, allowing Jones to explore her theories in a recent article published in the journal Historical Research.
Ruddock's most exciting claims concern an Italian friar named Fra Giovanni Antonio Carbonaro, who sailed aboard one of the five vessels that left with Cabot from Bristol, England, in 1498 and landed in Newfoundland.
"While we have long known that Fra Giovanni accompanied the expedition, along with some other 'poor Italian friars', nothing has been known of what happened to their mission," Jones said.
Ruddock seemed to have found evidence that while Cabot sailed on down nearly the entire eastern shore of North America to the Caribbean—another new revelation—the friar and his brothers stayed on and established a religious colony in Newfoundland, at present-day Carbonear.
"It appears that Ruddock believed the Newfoundland church was named after San Giovanni a Carbonara," Jones writes, "the locative element 'a Carbonara' presumably being carried across because it was key to the congregation's identity."
The problem with Ruddock's notes is that they do not include actual documented evidence to substantiate her claims. "While her correspondence does not give all the answers, it does provide many clues that historians can use to investigate her claims," said Jones.
Neither Jones nor any other historians involved in the literary reconstruction efforts understand why Ruddock chose to have her valuable work destroyed.
"Even if all the documents she claimed to have found do come to light eventually, the mystery of why she sought to suppress her own basic research may never be resolved," Jones said.
Desperate New World Settlers Stole Columbus' Silver
Ancients Traveled 1,800 Miles for Pretty Axes
Oldest New World Text Found
Stay up to date on the latest science news by signing up for our Essentials newsletter.
Heather Whipps writes about history, anthropology and health for Live Science. She received her Diploma of College Studies in Social Sciences from John Abbott College and a Bachelor of Arts in Anthropology from McGill University, both in Quebec. She has hiked with mountain gorillas in Rwanda, and is an avid athlete and watcher of sports, particularly her favorite ice hockey team, the Montreal Canadiens. Oh yeah, she hates papaya.