Can Energy Innovation Learn From the Manhattan and Apollo Projects?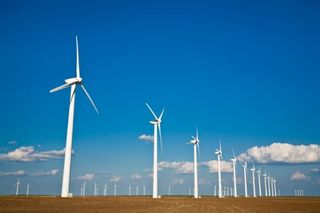 (Image credit: iStockphoto/David Sucsy)
One national effort by scientists and engineers unlocked the power of nuclear energy by splitting the atom. Another landed the first man on the moon. Now the White House hopes to channel the same can-do spirit of the Manhattan and Apollo projects into clean energy technologies, even as experts caution that energy innovation may also require its own new approaches.
The president's budget proposal for 2012 would create three new energy innovation hubs with a focus on critical materials for so-called clean tech, batteries and energy storage, and smart grid technologies — assuming it can survive the budgetary debate in Congress. Such hubs would bring together scientists and engineers across many different specialized areas as a way of targeting innovations and breakthroughs.
"These hubs will capture the same creative spirit that birthed some of the most important innovations of the last century to make advances on some of the most important technological problems of this century," according to a White House budget brief. "They can be the Apollo projects of our time."
The Manhattan and Apollo analogies work in the broad sense of having a clear purpose, said Laura Diaz Anadon, director of the energy technology innovation policy research group at Harvard University. She added that successful teams must have at least a certain number of interdisciplinary researchers, as well as a stable source of funding.
"The idea is that having a critical mass of these interdisciplinary teams will start generating new ideas and cross-pollination," Anadon explained.
Still, Anadon cautioned that the comparison with the Manhattan and Apollo projects does have its limits. And other researchers have openly warned against drawing casual comparisons between such older projects and the challenges of today.
Finding the winning formula
The Department of Energy (DOE) already has three existing energy innovation hubs that specialize in fuels from sunlight, energy-efficient buildings, and modeling and simulation technologies for nuclear power. Each of the new hubs would draw from $146 million proposed in the president's budget for supporting six hubs in all.
Such hubs seek to do something different by focusing the best and brightest minds from all disciplines on the toughest challenges. They would also ensure a stable source of funds for researchers, so that work does not suffer disruption from budget shortfalls or similar problems in the short term.
"The DOE budget has been relatively volatile," Anadon told InnovationNewsDaily."The idea behind a hub is to have relatively stable funding for about five years."
The combination a "critical mass" of researchers and stable funding also draws upon lessons from Bell Labs, a private-sector success with a long list of accomplishments such as inventing the transistors that form the basis of modern electronic devices.
Running into limits
But the clean energy challenge and the related issue of climate change may prove far tougher to crack than the Manhattan or Apollo projects. Whereas the older projects focused on a single technological achievement — such as building an atomic bomb or sending astronauts to the moon — the clean tech issues are much bigger in scope.
Clean tech and other technological solutions for climate change will likely take decades to roll out, and would need to be tailored for use by many different customers in a variety of scenarios, according to U.S. and U.K. researchers. They wrote a paper titled "Technology policy and global warming: Why new policy models are needed (or why putting new wine in old bottles won't work)," which was detailed in the journal Research Policy in October 2010.
"The Manhattan and Apollo projects were public programs undertaken to meet the needs of a single, government 'customer,' and their success did not depend on the widespread adoption by individuals and firms of a diverse array of technologies," according to the researchers.
There is also a matter of money spent on each project. The more Manhattan and Apollo efforts represented 0.4 percent of U.S. gross domestic product during their peak years, while energy technology research and development has never gone above 0.1 percent.
At the very least, the energy innovation hubs concept may break down the clean tech challenges into smaller, more manageable chunks. Anadon seemed confident that the hub focused on energy storage in particular could do well, based on her past work relating to that issue.
"It's also an area where the model of having applied and basic researchers working together is particularly suitable, because there's a lot of material science breakthroughs which could contribute," Anadon said.
Stay up to date on the latest science news by signing up for our Essentials newsletter.
Jeremy has written for publications such as Popular Science, Scientific American Mind and Reader's Digest Asia. He obtained his masters degree in science journalism from New York University, and completed his undergraduate education in the history and sociology of science at the University of Pennsylvania.