Explosion Causes Radiation Leak at Japan Nuclear Power Plant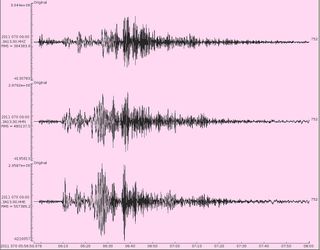 (Image credit: David Hawthorn)
An explosion at a nuclear power facility in Japan today (March 12) has blown the roof and walls off a building there, releasing dangerous radiation of unspecified proportions into the air, according to government officials.
The officials doubled the evacuation zone around the Fukushima Daiichi plant, which is about 160 miles (260 kilometers) north of Tokyo and near the epicenter of yesterday's 8.9-magnitude earthquake, from 6 miles to 12 miles. They have advised people within an even larger radius to stay indoors and breathe through wet cloths.
(At the nearby Fukushima Daini nuclear power plant, the evacuation zone has been extended to a 6-mile (10-km) radius from the previous 2 miles, according to the International Atomic Energy Agency.)
The cooling system of nuclear reactor No. 1 at the facility malfunctioned yesterday morning after the 8.9-magnitude earthquake knocked the power out, and an inability to cool down nuclear fuel rods caused a buildup of heat and pressure at the facility. It also drove up radiation to 1,000 times its normal level inside the nuclear reactor's control room.
Officials have not commented on whether the pressure buildup reported yesterday is what caused today's explosion. "We are looking into the cause and the situation and we'll make that public when we have further information," Chief Cabinet Secretary Yukio Edano said at a press briefing.
Stay up to date on the latest science news by signing up for our Essentials newsletter.
Natalie Wolchover was a staff writer for Live Science from 2010 to 2012 and is currently a senior physics writer and editor for Quanta Magazine. She holds a bachelor's degree in physics from Tufts University and has studied physics at the University of California, Berkeley. Along with the staff of Quanta, Wolchover won the 2022 Pulitzer Prize for explanatory writing for her work on the building of the James Webb Space Telescope. Her work has also appeared in the The Best American Science and Nature Writing and The Best Writing on Mathematics, Nature, The New Yorker and Popular Science. She was the 2016 winner of the Evert Clark/Seth Payne Award, an annual prize for young science journalists, as well as the winner of the 2017 Science Communication Award for the American Institute of Physics.