U.S. Security Depends on Energy Innovation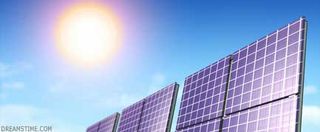 WASHINGTON — Future U.S. security may depend upon energy innovations that reduce dependence upon foreign oil. But the former Silicon Valley entrepreneur who heads the U.S. government's advanced-energy initiative said clean-energy technologies also will represent the biggest business opportunity in the coming decades.
The future of the United States depends upon three pillars: national security, economic security and environmental security, Arun Majumdar, director of the Advanced Research Projects Agency-Energy, told researchers and entrepreneurs here today (March 1). All three of those pillars stand on shaky ground when the nation spends more than $300 billion per year importing more than 50 percent of its oil from foreign countries, he said.
"In my lifetime, I would love to shave off a few zeros from that number,"Majumdar said at the ARPA-E Energy Innovation Summit.
The focus of ARPA-E on funding high-risk, high-reward energy innovations has paid off in six recent projects, with a return rate of $4 in private investment for every $1 of taxpayer money spent. Yet when Majumdar asked several major CEOs, including Bill Gates of Microsoft, to comment about the role of government in funding energy innovations, all of them pushed for even more federal help to help the U.S. forge ahead.
The clean-energy race could lead to new U.S. economic prosperity as well as better national security. Majumdar pointed out that many people around the world had "not yet turned on the lights" but would become new energy consumers as their income rose.
"If we can enable them to turn on the right kind of lights, that's the biggest business opportunity for America," Majumdar said. "But many of the technologies have not yet been invented. The future is up for grabs."
His message boiled down to a basic equation: Invent affordable clean energy technologies, manufacture them locally and sell globally. If the United States does those things, it may just ensure the jobs and economic security that every American craves.
Stay up to date on the latest science news by signing up for our Essentials newsletter.
Jeremy has written for publications such as Popular Science, Scientific American Mind and Reader's Digest Asia. He obtained his masters degree in science journalism from New York University, and completed his undergraduate education in the history and sociology of science at the University of Pennsylvania.