The Next Really Big Thing: Digital Billboards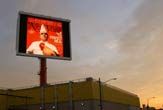 Digital billboards are starting to sprout along highways near you. These enormous, wide-screen displays provide an extremely attractive way to grab the attention of customers who are (momentarily) offline, while still maintaining a connection to the digital world.
The attraction to advertisers is that you can conduct a seamless campaign; the same ad campaign that the consumer saw on the highway on the way to work also appears on his desktop computer; when he looks for a digital sports clip, the same ad appears on his cell phone. And, all of this can be organized remotely.
Black Hammer Productions in New York created an animated spot to go on this electronic billboard. At 165 feet tall, it is visible for more than 2 miles and can be seen by motorists going to and from Manhattan through the Queens Midtown tunnel, according to Black Hammer.
Network hardware giant Cisco is thinking about it. They believe that digital signage will become a $2 billion market by 2010. Keep in mind that "digital billboard" can include signage with smaller dimensions. That means that the same sign you saw on the highway might also be placed in the lobby of your hotel and on your screen when you turn on the TV in your room. Cisco acquired Tivella, Inc., a leading provider of digital signage software and systems, in December of last year.
Google is thinking about it. Last December, the search leviathan (bigger than the merely "giant" Cisco) filed with the US patent office for "allocating advertising space in a network of displays." What they are proposing sounds exactly like a version of Google AdWords for digital billboards. Given the way that AdWords already works, an advertiser will be able to specify the message and the graphics for a campaign that stretches from the desktop to the highway with just a few clicks.
If you are wondering if these signs are a distraction, they certainly are. However, did I mention that these signs can also show animations or even short film clips? Now, that's distracting.
There is just one additional technology yet to be employed. In 1963, science fiction writer J.G. Ballard wrote a great short story, The Subliminal Man, that predicted the use of enormous electronic signs to convince you to BUY NOW:
Explore the future of advertising:
Read more about Cisco Sees Billions in Digital Signs and FreshConnect Digital Billboard animation.
(This Science Fiction in the News story used with permission from Technovelgy.com - where science meets fiction.)
Stay up to date on the latest science news by signing up for our Essentials newsletter.
Bill Christensen catalogues the inventions, technology and ideas of science fiction writers at his website, Technovelgy. He is a contributor to Live Science.