Scientists Regrow Chicken Embryo's Wing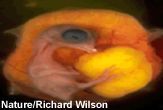 According to a study published in Genes and Development last week, a research team at the Salk Institute for Biological studies has been able to regenerate a wing in a chick embryo. This new study adds to the evidence that mammals can also regrow limbs (see Lab Mice Unexpectedly Regenerate Limbs, Organs), an ability once thought to be restricted to certain amphibians and lizards.
The new study demonstrates that even mammalian vertibrate regeneration is under control of the a cellular process called the Wnt signaling system.
The Wnt signaling pathway is a complex network of proteins best known for their roles in embryogenesis and cancer, but also involved in normal physiological processes in adult animals. To manipulate animals' regeneration ability, the Salk researchers used inhibitory and excitatory factors for Wnt signaling, which they delivered directly to the remaining bulge after they cut a limb from the experimental embryos. "The [exitatory Wnt] signal restarted the process, and genes that were involved in the initial development of the limb were turned back on," Belmonte says. "It is simply amazing."
Researchers noted that the procedure must be done in an extremely controlled way; uncontrolled cell proliferation can lead to cancer.
The first time I ever read about the idea that it might be possible to regrow limbs was in science fiction writer Frank Herbert's 1972 uneven but highly readable novel "The Godmakers," in which a badly injured agent is able to regrow what was lost:
Take a look at this earlier article on helping bones regenerate. Read more about Wnt reactivates dormant limb regeneration program and this article on the Wnt signaling pathway.
(This Science Fiction in the News story used with permission from Technovelgy.com —where science meets fiction.)
Life's Little Mysteries
Amazing Animal Abilities
Stay up to date on the latest science news by signing up for our Essentials newsletter.
Bill Christensen catalogues the inventions, technology and ideas of science fiction writers at his website, Technovelgy. He is a contributor to Live Science.