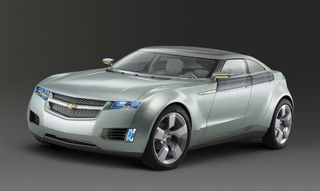 (Image credit: General Motors)
The all-electric Nissan Leaf and the plug-in Chevrolet Volt are slated to take to the road later this year, but outside of California, commercial electric refueling spots are few and far between. So how will owners of these next-generation vehicles recharge?
Given the limited range of most all electric cars (a fully charged Leaf can go 100 miles), this can be a problem. Until the commercial electric refueling infrastructure is built out, the best bet for individual owners of all-electric vehicles is to recharge at home.
If you decide to use Level 1 charging, which takes advantage of existing home 120 volt, alternating current (AC) wiring and connects through any three-pronged outlet, be prepared for a long wait — charging most electric cars will take from eight to 14 hours.
A better and faster way to go is Level 2 charging using a purpose-built electric vehicle charging station (EVSE). Twice as fast as Level 1, Level 2 is expected to be the choice of most consumers, despite the need to modify home wiring and obtain necessary permits.
New ways to fill up
All-electric car-charger connectors conform to the Society of Automotive Engineers (SAE) J1772 standard for electric vehicles. All of the all-electric cars currently on the assembly line or the drawing board conform to this standard, so you're not locked in for life to one specific car-charger combination.
Nissan selected AeroVironment (AV) to provide "home-charging docks" for the Leaf. The cost, including installation, is about $2,200 and the company handles all the necessary inspections, permits and paperwork. The net cost will actually be less because of a federal tax credit equal to 50 percent of the cost to buy and install a home-charging station, up to a maximum of $2,000.
"The whole process takes between four and six days from the time that the homeowner places the order until installation is completed and inspected," said Kristen Helsel, AVs vice president for EV solutions.
At-home charging
Though better known for its electric unmanned aerial vehicles (UAV), AV is a pioneer in electric land vehicles as well, co-developing the first modern electric car, the GM Impact (EV-1).
AV's home-charging station, the EVSE-RS, is a 14-inch diameter appliance that weighs 12 pounds and hangs on a wall. The length of time it takes to complete a charge depends on the size of the car's battery. The Leaf, for example, has a big battery. The EVSE-RS can boost that battery from 20 percent of capacity to 80 percent in six to eight hours, Helsel said. It functions more like a transmission device than like a true charger.
"It allows AC power to flow from the grid to the car," she said.
Then an onboard converter takes the AC power and changes it to a direct current (DC) output to actually charge the battery.
The national average price of a kilowatt hour of electricity is about 11 cents, making the cost for fully charging a Leaf about $2.75.
AV is currently installing chargers in California, which is Nissan's launch state for the Leaf, Helsel said, but the carmaker plans to introduce the vehicle nationwide. Helsel said her company, based in Southern California, plans to be along for the ride.
"Wherever they go, we go," she said.
Stay up to date on the latest science news by signing up for our Essentials newsletter.