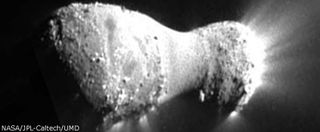 A NASA spacecraft has beamed back the first close-up photos from its rendezvous with a comet — and the images show an ice ball that looks like a giant chicken drumstick, or perhaps a peanut or bowling pin.
Deep Impact zoomed to within 435 miles (700 kilometers) of Comet Hartley 2 at 10:01 EDT (1401 GMT) this morning (Nov. 4), and the probe beamed down its first close-up shots an hour later.
Cheers erupted in the Mission Control room of NASA's Jet Propulsion Laboratory as five high-resolution images flashed up on a big screen. In the photos, the comet, which is about 1 mile (1.6 km) wide, looks like a big chicken drumstick, or a peanut.
The five photos bracket the time of closest approach. Deep Impact took thousands of images during the flyby, and these pictures will continue to flood researchers' computers in the hours and days to come, researchers have said.
This article was provided by SPACE.com, a sister site of LiveScience.com.
Stay up to date on the latest science news by signing up for our Essentials newsletter.
Michael was a science writer for the Idaho National Laboratory and has been an intern at Wired.com, The Salinas Californian newspaper, and the SLAC National Accelerator Laboratory. He has also worked as a herpetologist and wildlife biologist. He has a Ph.D. in evolutionary biology from the University of Sydney, Australia, a bachelor's degree from the University of Arizona, and a graduate certificate in science writing from the University of California, Santa Cruz.