How New York City Shaped Superheroes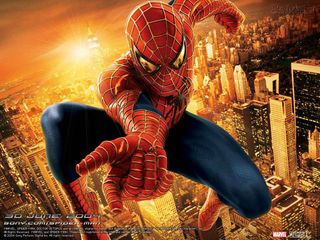 (Image credit: Sony Pictures)
NEW YORK – New York City has inspired superhero stomping grounds ranging from Metropolis to Gotham City, but historic events in the city may have also played a role in the origins of some comic book superheroes and villains.
Superman had already arrived on the comic book scene by the time of New York's World's Fair in 1939, an event that attracted 45 million visitors and trumpeted exhibits regarding "the world of tomorrow." Yet New York City writers and illustrators may have drawn inspiration from the showy spectacles they witnessed at the World's Fair to create more superheroes, according to Brad Ricca, an English professor who also teaches a comic books course at Case Western Reserve University in Cleveland, Ohio. [Related: Superhero or Supervillain: Which Lurks Inside You?]
"People forget that there were midgets, strippers and sideshows," at the World's Fair, Ricca said during a panel held at New York Comic Con on Oct. 9.
Several of the World's Fair spectacles included real-life daredevils with eerie similarities to some of the superheroes that emerged later in the year. One example involved men who set themselves ablaze and dove from high places while engulfed in flames, in an act named "hell-diving."
A superhero named "The Human Torch" – a robotic android – later debuted in 1939, drawn with clear similarities to photos of the hell-divers. More recently, another unrelated Human Torch became a human member of the superhero group dubbed The Fantastic Four.
Snooping for superheroes
The original Human Torch came from Timely Comics, a forerunner to today's entertainment behemoth Marvel Comics. He became one of Timely's first big characters along with Namor the Sub-Mariner, whose origins also reflect the historical events of the pre-World War II era.
The Sub-Mariner arose from the mind of writer Bill Everett, who was scrambling at the time to come up with an answer to Superman's sensational debut in 1938. Like many other comic book writers, Everett called New York City his home and likely attended the World's Fair.
As he wandered around, Everett may very well have seen an exhibit titled "Salvador Dali's Dream of Venus: The Surrealist Funhouse," which included appropriately bizarre scenes such as mermaids swimming around with mummified cows. That could have influenced his depiction of the Sub-Mariner's world, Ricca said.
The Sub-Mariner also happens to bear a striking resemblance to Johnny Weissmuller – a champion swimmer of the 1930s who would later go on to star in Hollywood films as the jungle-raised Tarzan. That was back in the day when swimming had a much higher profile in American sports, Ricca pointed out.
A shadow falls
Darker events later in New York City's history may have also inspired a popular comic book villain in the Spider-Man series, according to Sharon Packer, a psychiatrist at the Albert Einstein College of Medicine in New York City. She spoke during a separate New York Comic Con panel that also included psychiatrist musings about Batman.
The web-slinging Spider-Man – perhaps the quintessential New York City superhero – first encounters a new type of enemy called symbiotes in the 1980s comic books. The symbiotic alien creatures act like living costumes that take over their host and influence thoughts as well as superpowers.
This appearance of symbiotes in the Spiderman comic books accompanied growing public awareness of the early AIDS epidemic centered in New York City and other urban centers. Members of the gay community who were some of the first to contract the HIV virus that causes AIDS suffered from a hideous array of diseases, because of HIV's weakening of the immune system. Symptoms of those opportunistic diseases – including a darkened, web-like pattern that appeared on the skin of AIDS patients – simultaneously began appearing in comic book writers' depictions of the symbiotes.
Fear itself
Public fears rose when random people also began contracting HIV through unscreened blood supplies and sexual encounters with those infected, even as researchers were scrambling to understand the HIV virus. That recognition of infection relating to blood and other bodily fluids similarly may have influenced how the symbiotes in the Spiderman series can infect their hosts' blood, Packer explained.
Packer recalled working as a young psychiatrist and seeing young, previously healthy male patients show up during the early days of the AIDS epidemic with surprising mental issues – just weeks before they died. Studies have since shown that as many as 60 percent of people infected with HIV will suffer at least one psychiatric disorder – a consequence of the virus playing havoc with the body's brain and central nervous system.
That mental effect on HIV and AIDS patients also has parallels in how the Spider-Man universe symbiotes, such as the popular Venom, can influence the host person. That influence was shown to infamous effect on Spider-Man protagonist Peter Parker when he gains newfound power and aggressiveness in the movie "Spider-Man 3."
Of course, Packer cautioned that "correlation is not causation" regarding how the early AIDS epidemic may have influenced comic book writers in New York City. But she presented an impressive list of parallels that may have resulted from New York City being both the center of the comic book world and an epicenter of the AIDS epidemic.
Making a spectacle
The AIDS epidemic continues to plague New York City and the rest of the world, while the New York World's Fair has long since receded into distant memory. Yet Ricca, the historian, pointed out that this year's superhero movie "Iron Man 2" gave a nod to the 1939 World's Fair by setting the fictional Stark Expo at the same location in the New York City Borough of Queens.
Even New York Comic Con itself continues to pay homage to the idea of spectacle and superheroes. Whereas the World's Fair featured a Broadway actor dressed as Superman standing on a pedestal in a parade, today's costumed superheroes mingle happily with the masses of convention goers.
But despite plenty of amazing sights at Comic Con, it doesn't quite capture all the wonder and showmanship which surrounded the 1939 World's Fair.
"No one is lighting themselves on Fire at Comic Con," Ricca said. After a pause, he added, "Yet."
Stay up to date on the latest science news by signing up for our Essentials newsletter.
Jeremy has written for publications such as Popular Science, Scientific American Mind and Reader's Digest Asia. He obtained his masters degree in science journalism from New York University, and completed his undergraduate education in the history and sociology of science at the University of Pennsylvania.