15 jaw-dropping spacewalk images
Fearless astronauts push the limits in these epic spacewalk photos.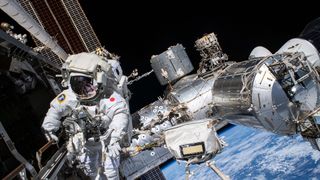 (Image credit: NASA)
Astronauts are some of the most adventurous explorers among us. In this thrilling gallery, American and international astronauts undertake various spacewalks for research and repair against the stunning backdrop of Earth.
1. Helping Hubble
Astronaut Steven L. Smith moves along the Hubble Space Telescope while docked in the space shuttle Discovery's cargo bay. Behind him is a distant view of Australia on a Feb. 15, 1997 spacewalk.
2. Space selfie
Woody Hoburg, a NASA astronaut and Expedition 68 flight engineer, takes a "space-selfie" during a spacewalk on June 9, 2023.
3. Building the ISS
Mission specialists Jerry L. Ross and James H. Newman work together on the first International Space Station (ISS) assembly mission on Dec. 6, 1998.
4. Mind the glare
Expedition 35 flight engineer Chris Cassidy completes a spacewalk on May 11, 2013.
5. Teamwork in space
Chris Cassidy and Tom Marshburn, Expedition 35 flight engineers, inspect and replace a pump controller box on the ISS on a May 11, 2013 spacewalk.
6. Activate shields
Expedition 69 crew members Dmitri Petelin and Sergey Prokopyev, both from Russia's space agency Roscosmos, install orbital debris shields on the ISS during a spacewalk on Aug. 9, 2023.
7. Hello from space
Astronaut Robert L. Curbeam, STS-98 mission specialist, completes a spacewalk ahead of schedule on Feb. 12, 2001.
8. Job with a view
Josh Cassada, Expedition 68 flight engineer and NASA spacewalker, works on the ISS on Dec. 22, 2022.
9. Sideways work
NASA astronaut Stephen Bowen and United Arab Emirates astronaut Sultan AlNeyadi on an April 28, 2023 spacewalk.
10. First time for everything
Nicole Mann, NASA astronaut and Expedition 68 flight engineer on her first career spacewalk on Jan. 20, 2023, to install a modification kit on the ISS's starboard truss structure.
11.Working on Hubble
Astronauts John M. Grunsfeld, payload commander, and Richard M. Linnehan, mission specialist, participate in their first spacewalk to perform work on Hubble on March 4, 2002.
12. The glowing Earth
Astronaut Stephen Bowen moves outside the ISS on his eighth career spacewalk on April 28, 2023.
13. Outdoor work
Astronauts Stephen Bowen and Sultan Alneyadi on a spacewalk on April 28, 2023.
14. Floating with Hubble
Astronaut John M. Grunsfeld floats past Hubble as it is docked in the space shuttle Columbia's cargo bay during a spacewalk on March 8, 2002.
15. Discoveries abound
Astronaut Andrew S. W. Thomas, mission specialist, in the cargo bay of the Space Shuttle Discovery during a March 2001 spacewalk.
Stay up to date on the latest science news by signing up for our Essentials newsletter.
Annie is a digital content producer and writer with a background in English and Anthropology from Fordham University.