How to watch the Taurid meteor showers peak this weekend and next
The modest Northern Taurid and Southern Taurid meteor showers peak on separate days over the next week. Here's how to get the most out of the annual display of shooting stars and fireballs.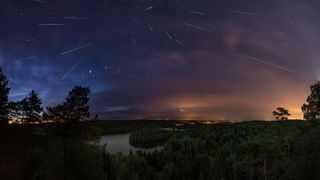 (Image credit: Mika Wist / 500px / Getty Images)
The Taurid meteor shower is upon us — but unlike most annual displays of "shooting stars," this one has two peak nights falling five days apart.
Known for its fireballs — very bright meteors that appear as flashes while falling through the atmosphere — the Taurid meteor showers are modest, offering fewer than 10 shooting stars per hour on peak nights. However, November is one of the better months for shooting stars because there are many sporadic meteors, according to the American Meteor Society.
First comes the Southern Taurid meteor shower, which peaks late on Monday, Nov. 6 and early on Tuesday, Nov. 7 — though the shower actually runs from Sept. 23 through Dec. 8.
Related: Enormous fireball meteor turns the sky over Turkey green in eerie viral video
The following weekend will see the peak of the Northern Taurid meteor shower, which happens overnight on Saturday, Nov. 11 and early on Sunday, Nov. 12. The Northern Taurids began on Oct. 13 and also end on Dec. 2. You can expect to see a notable increase in fireball activity in early November, according to the American Meteor Society.
Both Taurid meteor showers are named after the constellation Taurus, the bull, which is rising in the sky this fall. The shower's meteors appear to come from the same region of the night sky as Taurus, though they're not associated with it.
The sky conditions aren't ideal for the Southern Taurids. On the peak night, a 59% lit waning gibbous moon will shine brightly from midnight onward. However, for the peak of the Northern Taurids, the moon will be a waning crescent moon and just 4% illuminated, rising shortly before sunrise. That will leave the night sky as dark as possible throughout the peak, though you will need a clear night to see any shooting stars or fireballs.
Shooting stars are particles called meteoroids that strike Earth's atmosphere, where they heat up and vaporize to cause streaks of light in the night sky. According to NASA, the source of the Taurids may be comet 2P/Encke, which may have left a trail of rocky debris near Earth's orbit hundreds of years ago.
Stay up to date on the latest science news by signing up for our Essentials newsletter.
Jamie Carter is a freelance journalist and regular Live Science contributor based in Cardiff, U.K. He is the author of A Stargazing Program For Beginners and lectures on astronomy and the natural world. Jamie regularly writes for Space.com, TechRadar.com, Forbes Science, BBC Wildlife magazine and Scientific American, and many others. He edits WhenIsTheNextEclipse.com.