Iceland's 'baby volcano' is still spewing lava rivers, in a tantrum visible from space
Drone footage captures Iceland's "baby volcano" throwing a hissy fit, spewing molten lava into the sky.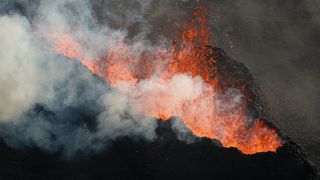 (Image credit: Meghan McCollum via Getty Images)
New drone footage released Wednesday (July 26) confirms that a volcanic eruption on Iceland's Reykjanes Peninsula is still going strong, shooting geysers of molten lava into the sky.
In the video, a thick ribbon of glowing red lava can be seen coursing through the charred landscape.
Geologists are calling the volcano — known as Litli-Hrútur, or "Little Ram" — Earth's newest "baby" volcano because it was born recently, on July 10. It's the result of an underground eruption opening up on the peninsula, causing a 1.7-mile-long (2.7 kilometers) fissure to rip through the landscape about 19 miles (30 km) east of Reykjavík, the country's capital.
Prior to the eruption, thousands of small earthquakes were recorded throughout the area, including one that reached magnitude 4.8. So far, the volcano has spewed about 437 million cubic feet (12.4 million cubic meters) of lava into the area, according to an Icelandic Met Office statement released July 20.
Related: Swarm of 20,000 earthquakes could make Iceland's volcanoes erupt
Researchers aren't overly surprised by the eruption; it's part of the Fagradalsfjall volcanic area, the location of eruptions in March 2021 and August 2022. Prior to that, the area remained dormant for around 800 years.
European Space Agency (ESA) satellites are currently monitoring the volcano's activity, which is also being livestreamed for people to watch the event unfold from the safety of their homes. While the new eruption has caused visitors to flock to the normally unpopulated area to see the lava and smoke plumes for themselves, experts warn that the area is potentially hazardous due to toxic fumes and that "new fissures could open without warning," according to an ESA statement.
"There's a limit to how high the crater can get before it inherently becomes unstable, so I think if activity remains high, then it's possible we'll see further events where sections of the crater wall might collapse," Laura Wainman, a doctoral student in the School of Earth and Environment at the University of Leeds in England who is studying the volcano on-site, told the BBC. "It's a very dynamic system but we have lots of people working on modelling different scenarios for where the lava flows might travel."
Stay up to date on the latest science news by signing up for our Essentials newsletter.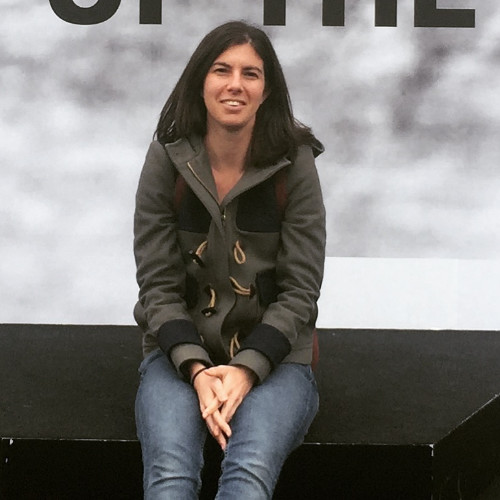 Live Science Staff Writer
Jennifer Nalewicki is a Salt Lake City-based journalist whose work has been featured in The New York Times, Smithsonian Magazine, Scientific American, Popular Mechanics and more. She covers several science topics from planet Earth to paleontology and archaeology to health and culture. Prior to freelancing, Jennifer held an Editor role at Time Inc. Jennifer has a bachelor's degree in Journalism from The University of Texas at Austin.