Best Periodic Table Gifts
Ensure the science-obsessed person in your life nerds out with a creative chemistry-inspired gift. Our collection of the periodic table finds will certainly be a hit.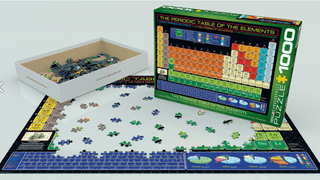 (Image credit: Eurographics)
Science savvy individuals deserve a gift that speaks to their nerdy side, honoring that calculated love with thoughtful mementos. For recipients with a chemistry habit, the best place to begin is with the elements, as in the periodic table of elements. This chemistry classic appears on everything from decor to clothing. So, there's something to fit every personality. We've collected the perfect periodic table gift options to excite the chemistry aficionado in your life.
Periodic presents
Finding a superb gift for the chemist in your life doesn't have to be difficult, just begin with the periodic table. This colorful element-filled chart is the star of many gift-worthy items, designed to inject a little science flavor into homes and even wardrobes. Our staff pick is the Sunlit updated periodic table of elements shower curtain because it splashes color and personality into any bathroom, transforming ordinary tub and shower combinations into scientific sanctuaries. This standard-size curtain is anything but, with a full-color print of the periodic table. It's shaped in easy polyester and cleans in the washing machine. This gift is a no-brainer.
For those just beginning their love for chemistry, the Uncle Goose periodic table blocks set is a great foundational choice. Future chemists will enjoy this set of 20 elemental cubes, configuring periodic charts as they stack and play. Each side of the 20 wooden cubes is printed with an element, so babies will be introduced to what chemistry has to offer.
Stay up to date on the latest science news by signing up for our Essentials newsletter.