'Magical artifacts' found along centuries-old pilgrimage route to Mecca may have protected against evil eye
Archaeologists analyzed a number of artifacts from a pilgrimage camp in Israel that they think "sorcerers" used for magical purposes.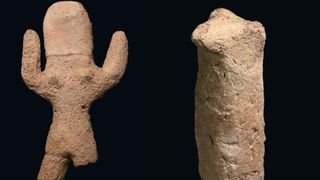 (Image credit: Clara Amit, Israel Antiquities Authority)
An assortment of 400-year-old artifacts found along a former Muslim pilgrimage route from Egypt to the Arabian Peninsula may have been used for "magical rituals" or ceremonies, a new study finds.
Archaeologists discovered the collection of goods in Eilat, a region in southern Israel. Among the items were a number of clay-made objects, including a figurine of a naked woman (possibly a goddess) with her hands raised, miniature votive incense altars, rattle fragments, animal figurines and an array of colored quartz pebbles and seashells, according to the study, published July 14 in the Journal of Material Cultures in the Muslim World.
The location of the finds — next to a camping site along a former Muslim pilgrimage route that connected Cairo with the holy city of Mecca, now in Saudi Arabia — indicates that the items were once used for "magical rituals" and that travelers along the road may have "consulted popular sorcerers" during their treks, according to a statement from the Israel Antiquities Authority (IAA). For Muslims, this journey to Mecca, known as the hajj, is a mandatory religious duty that capable individuals should achieve annually or at least once in their lifetimes, according to the U.S. State Department.
Related: Ancient inscription on jar found in Israel links kingdoms of Solomon and Sheba
It's possible that the artifacts were used in rituals intended for divine protection, such as warding off the evil eye or healing diseases. "This discovery reveals that people in the Early Ottoman Period — just as today — consulted popular sorcerers, alongside the formal belief in the official religion," the researchers said in the statement.
"The artifacts were found broken, and they may even have been purposely broken in the ceremonies," the team added.
Literary sources show that "there was a demand for magical rituals among people from different strands of society," the researchers noted. "Such rituals were carried out daily alongside the formal religious rituals — including in the Muslim world — and it is probable that the pilgrims making their way to the holy cities of Mecca and Medina were no exception." Medina is a holy city in Saudi Arabia where Muhammad started the Muslim community and where his body is entombed.
The discovery marks the first time such an array of ritual objects has been found in this region.
The IAA will work with Israel's Ministry of Tourism to make the route and nearby archaeological sites a tourism area that will include "educational activities for the public emphasizing its cultural heritage role," according to the statement.
Stay up to date on the latest science news by signing up for our Essentials newsletter.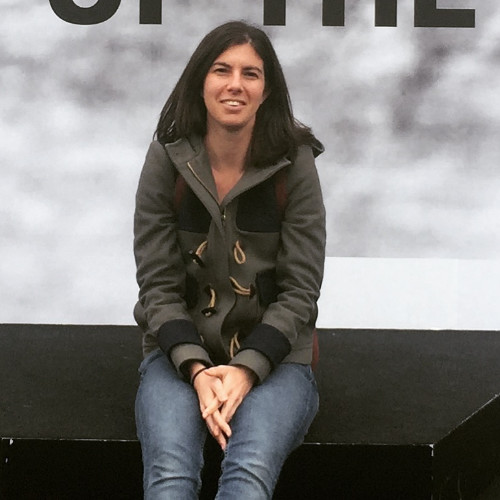 Live Science Staff Writer
Jennifer Nalewicki is a Salt Lake City-based journalist whose work has been featured in The New York Times, Smithsonian Magazine, Scientific American, Popular Mechanics and more. She covers several science topics from planet Earth to paleontology and archaeology to health and culture. Prior to freelancing, Jennifer held an Editor role at Time Inc. Jennifer has a bachelor's degree in Journalism from The University of Texas at Austin.