Sweet! Food Historian Spreads the Gospel of Chocolate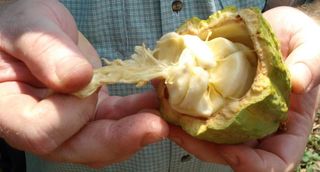 (Image credit: Francine Segan, food historian)
Food historian and cookbook author Francine Segan believes Americans are missing out on chocolate's full potential.
But she has high hopes for those who attend a presentation she is scheduled to give at the American Museum of Natural History on Tuesday evening (Dec. 7).
"I hope everybody will leave and walk away with the idea that a bar of chocolate should be on the pantry shelf, in the spice rack," Segan said. "Why are we denying ourselves?"
Among the dishes that Segan says could benefit from a sprinkle of good quality chocolate: beef stew, chili and roasted winter vegetables.
Segan's interest in chocolate took her to Belize for two weeks in 2008 where she worked with an indigenous cacao farmer. Cacao trees grow only in the tropics, near the equator. Their beans were first used by the Mayans and the Aztecs as an unsweetened, ceremonial drink, according to Segan.
The pods grown by the cacao tree come in different sizes, so they are cut open by hand. Inside, Segan discovered something many chocolate eaters never encounter: the succulent fruit around the beans.
"We don't ever get to taste that," she said. "It's like peaches with apricot and peach blossom fragrance."
But eating the fruit was a no-no, since the beans must ferment in it for eight days before being dried, she said. The flavor of the beans is influenced by the air and soil around them, much like the terroir of wine, so chocolate made from beans grown in Madagascar has a taste distinct from chocolate from Venezuelan beans, she said.
Spanish explorers brought chocolate back from the New World, and European experimentation began. The Spanish added sugar, and created the hot chocolate drinks we know of today. The Italians concluded that the beans could be used as a spice, just like seeds such as fennel.
Doctors, who looked for medicinal properties in food, also took notice. In 1662, Dr. Henry Stubbe published The Indian Nectar, or A Discourse Concerning Chocolata, in which he recommended chocolate as a treatment for hysteria, consumption, pining away and other ailments, Segan said.
Centuries later, medicine is once again interested in the curative properties of food, including chocolate. A study published in 2006 in the journal Proceedings of the National Academy of Sciences found that epicatechin, a type of chemical known as a flavanol, is directly linked to improved cardiovascular health. Chocolate is rich in flavanols, including epicatechin.
Event details:
On Tuesday, Dec. 7, at 6:30 p.m. Segan will host a presentation and tasting called Adventures in the Global Kitchen: The Lure of Chocolate in the Linder Theater of the American Museum of Natural History in New York City.
You can follow LiveScience writer Wynne Parry on Twitter @Wynne_Parry.
Stay up to date on the latest science news by signing up for our Essentials newsletter.
Wynne was a reporter at The Stamford Advocate. She has interned at Discover magazine and has freelanced for The New York Times and Scientific American's web site. She has a masters in journalism from Columbia University and a bachelor's degree in biology from the University of Utah.