Manga Illustrator to Inspire Interest in Science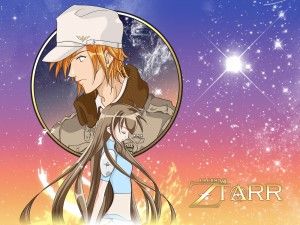 (Image credit: Sara Mayhew)
Japanese manga comics have gradually infiltrated the bookstore shelves and popular culture of the United States and the rest of the world. But rather than just create entertaining stories, one manga illustrator hopes to use the popular storytelling medium to boost skeptical thinking and interest in science among fans, especially girls.
The manga series, titled "Legend of the Ztarr," draws inspiration from "Star Trek" and "Star Wars" among other stories. Yet its creator also cites influences from the "shoujo" manga stories that aim at a readership consisting of female teens, and often resemble romantic comedies.
Manga comics embrace all genres and have attracted a growing international audience. Some manga versions of science textbooks have even come out with English translations, but few if any of the "shoujo" stories aimed at female teens touch on science or empirical thinking.
One illustrator hopes to change that.
"'Legend of the Ztarr' is an epic — like 'Lord of the Rings' in space! Except, 'Legend of the Ztarr' is the skeptic's epic," said Sara Mayhew, a manga illustrator who lives in Kirkland Lake, Canada.
Mayhew presented her idea at TEDActive conference held at Palm Springs, Calif., in February. It's a sister event to the annual TED conference, which features talks from creative thinkers and innovators who have included "Avatar" director James Cameron and Microsoft-founder Bill Gates.
The proposal has appeal in part because manga has attracted plenty of female fans with certain romance or emotion-centered series, and continues to draw in such readers with new tie-ins such as a recently announced "Twilight" manga adaptation. Such stories could also possibly help female readers take an interest in science and skeptical thinking, if done well.
By contrast, the U.S. comic book industry has traditionally appealed more to a male geek culture — not unlike how certain scientific fields still have male-dominated cultures.
Simple appearances can make a huge difference. Mayhew recalled being a young girl and seeing "Star Wars" concept art for the original movies that envisioned the hero as a heroine, back when "Star Wars" creator George Lucas toyed with the idea of a female lead.
"That idea and image really stuck with me — Star Wars with a female Luke Skywalker," Mayhew told LiveScience. Some "Star Wars" elements appear in "Legend of the Ztarr," such as young hero (or heroine) pining for adventure while stuck on a distant planet,
"Legend of the Ztarr" also bears resemblance to "Star Wars" by focusing on a story that just happens to have a galactic backdrop, rather than "Star Trek" where certain story elements depend more on real-world science principles. That means "Legend of the Ztarr" probably won't teach any biology or physics, but may instead inspire readers — especially female readers —through fictional role models who have scientific or evidence-based mindsets.
Mayhew noted that stories can convey skeptical or critical thinking through characters, even without being overtly about science. She pointed to the "Harry Potter" series as a bit of a counterintuitive example of fantasy teaching evidence-based thinking.
"Even though the characters can use magic, they still think their way out of problems and are good skeptics; they have a passion of solving mysteries but use critical thinking," Mayhew said.
Mayhew's own interest in science and skeptical thinking grew alongside her practice of drawing and storytelling. She pointed to the "Bad Astronomy" blog as one of the first science and skepticism blogs she encountered, and expressed an ongoing love with astronomy and anything written by the late astronomer Carl Sagan. She also regularly listens to podcasts such as "Skeptics' Guide to the Universe" and SETI's "Are We Alone."
For now, Mayhew has already published a chapter of "Legend of the Ztarr" online, and hopes to eventually land a U.S. publisher for her work. Her earlier series, "Secrets of Sorcerors," was deemed "Best Comic for Teens" by the International Anime and Manga Festival.
Manga has already helped encourage young readers' interests in other areas as well. Classic literature such as "The Scarlet Letter" and "The Adventures of Huckleberry Finn" has already undergone the manga treatment. UK publisher SelfMadeHero has also spun off its own manga adaptations of Shakespeare plays, with twists such as transforming "Romeo and Juliet" into a story of feuding yakuza gangs in Tokyo.
"What I like about manga is how unrestrictive it is in the kinds of stories that are told," Mayhew said.
Stay up to date on the latest science news by signing up for our Essentials newsletter.
Jeremy has written for publications such as Popular Science, Scientific American Mind and Reader's Digest Asia. He obtained his masters degree in science journalism from New York University, and completed his undergraduate education in the history and sociology of science at the University of Pennsylvania.