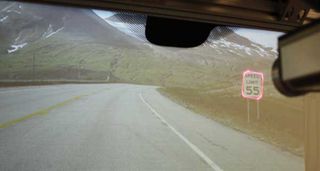 (Image credit: General Motors)
General Motors is testing head-up display (HUD) technology for its next-generation cars that will give drivers the same kind of situational awareness that Air Force F-16 pilots in Iraq have today.
The goal is improved safety for drivers and their passengers in all kinds of weather, day or night.
Also known as enhanced vision systems, the HUD systems that GM is putting through their paces use data produced by an array of vehicle sensors and cameras to project laser images directly onto the surface of a car's windshield.
GM is also using night vision, navigation and camera-based sensor technologies to improve driver visibility and object detection ability.
"Let's say you're driving in fog," said Thomas Seder, group lab manager for GM R&D. "We could use the vehicle's infrared cameras to identify where the edge of the road is and the lasers could 'paint' the edge of the road onto the windshield so the driver knows where the edge of the road is."
The system can also alert drivers to objects outside their normal field of vision, such as children playing or animals at the side of the road.
Borrowing from aviation
To create the HUD display, a car's entire windshield is covered with a transparent chemical phosphor coating that emits visible light when struck by a light beam from a laser.
HUD technology was originally developed for military aviation use. Seder, who worked in the aviation industry before coming to GM, had the idea to implement it in cars.
"I came across a small company called SuperImaging that had developed these transparent phosphors that turned the whole windshield into a transparent display," Seder told TechNewsDaily. "That was a key enabling technology. Once I saw that, I knew how to use the technology from my aviation background."
GM has been marketing HUD systems since 1988. HUD systems that display information such as vehicle speed, lane change indicator status and vehicle warning messages are available as an option on the GMC Acadia, Chevrolet Corvette, Buick Lacrosse and Cadillac STS.
Unlike current HUD systems, the next-generation systems that GM is working on, along with researchers at Carnegie-Mellon University and The University of Southern California , use the entire width of the windshield as a display. Drivers have the ability to pick what kinds of information are being displayed.
"Our guideline is that the user should always be in control of the technology," Seder said.
Promising early results
In early testing with simulators, Seder said, drivers expressed a clear preference for HUD displays that use the entire screen.
"The results also showed performance was improved with a heads-up system in terms of eyes-off-the-road time, lane keeping, [and] all the traditional measures of performance," he said. "That indicates to us we're not going to have significant problems with human-systems integration."
HUD systems can also be combined with automated sign-reading technology to alert drivers if they're speeding or if there's construction or other potential problems ahead.
It will be a while, however, before these new enhanced vision systems are available on GM production models.
"We're targeting somewhere in the timeframe of 2018," Seder said. "The technology is still pretty nascent. We've trying to bring humans into the loop to understand human integration issues. Technology always gets used in unintended ways, so we're trying to discover what those unintended ways are before we put it in the field."
Stay up to date on the latest science news by signing up for our Essentials newsletter.