Rare Borneo Rhino Photographed for First Time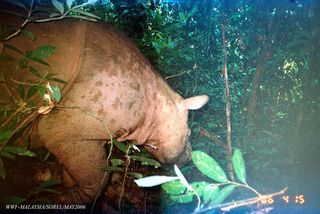 (Image credit: WWF-Malaysia/Sorel?2006)
Scientists have captured the first-ever photo of the extremely endangered Borneo rhinoceros in the wild.
Conservationists believe the newly photographed rhino is one of the few of these beasts remaining in the wild, and probably belongs to the small population of 13 discovered last year in the interior forests of Sabah, Malaysia, which was the first confirmed sighting in 20 years.
A full-time rhino monitoring team, funded by Honda Malaysia, in February set up remote cameras, triggered when animals walk by, to observe the beasts and their habitats.
"This is an encouraging sign for the future of rhinoceros conservation work in Sabah," said Mahedi Andau, Director of the Sabah Wildlife Department, which runs the project along with the World Wildlife Fund.
"While the total number of Borneo rhinos remaining is uncertain, we do know there are very, very few," Andau said. "To capture a photo of one just a few months after placing camera traps in the area is extraordinary."
Besides being scarce, the rhinos in Sabah make their home in very dense jungle, making them difficult to spot in the wild. The animals are also very shy. For these two reasons, scientists know very little about their behavior and population structure.
Conservationists hope that the population of at least 13 rhinos found last year is viable and able to reproduce if protected from poaching.
GALLERY: Endangered Wildlife
Hippos in Congo at Brink of Extinction
The Unicorn of India
Stay up to date on the latest science news by signing up for our Essentials newsletter.
Bjorn Carey is the science information officer at Stanford University. He has written and edited for various news outlets, including Live Science's Life's Little Mysteries, Space.com and Popular Science. When it comes to reporting on and explaining wacky science and weird news, Bjorn is your guy. He currently lives in the San Francisco Bay Area with his beautiful son and wife.