Trove of Unknown Ben Franklin Letters Found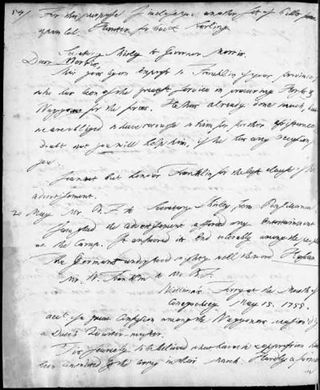 Letters from Benjamin Franklin have been uncovered the British Library, unseen for 250 years.
The 47 letters are copies made in the spring and summer of 1755 of correspondence written to and from Franklin. The copies were transcribed by a contemporary of Franklin's, Thomas Birch, who had a penchant for compiling historical documents.
The trove was discovered by University of California, San Diego professor Alan Houston, and is being published for the first time in the April issue of the William and Mary Quarterly. The letters concern Franklin's involvement in the French and Indian War — specifically an incident called the "wagon affair."
Houston happened on the thrilling find on his last day during his last scheduled trip to England. The last document he asked to see in the Manuscripts Reading Room of the British Library was catalogued as "Copies of Letters relating to the March of General Braddock" by Thomas Birch.
Houston was combing the archives for documents that might shed light on political and economic dimensions of the Seven Years' War. When he saw the innocently titled catalogue item, he thought, "It's late, but I'll take a quick glance before I leave."
"I knew almost instantly what I was looking at," Houston said. "Franklin refers to a book of letters concerning the 'wagon affair' in his 'Autobiography,' but no one has ever seen it. Like others, I assumed that it had had not survived."
He could hardly sit still and maintain the decorum appropriate to the august library, Houston recalled. He quickly checked "The Papers of Benjamin Franklin," Yale University's definitive edition of Franklin's writings. On finding no references to these materials, Houston dashed out to make a middle-of-the-night call to his wife across the Atlantic.
He said the find is "the kind that happens only once in a lifetime."
Scott Casper, visiting editor of the William and Mary Quarterly and professor of American history at the University of Nevada, Reno, said, "It is astonishing to find such a cache of previously unseen letters."
"It is one thing," he said, "to find a single letter, but to find a whole conversation is stunning. It's a really great story, that a diligent scholar who knows what he's looking at can find what nobody saw."
The manuscript is incomplete – Birch copied parts of letters as often as he copied them whole – but it is in remarkably good condition, Houston said. It includes letters to and from Franklin's son William; letters to and from General Edward Braddock or his secretary, William Shirley Jr.; a letter to Franklin's wife, Deborah; and a letter from the governor of Massachusetts, William Shirley Sr.
According to Casper, the letters add substance and color to our understanding of the period: "This is not only important to Ben Franklin scholarship," he said, "but also illuminates an important part of American history."
The "wagon affair" took place during the French and Indian War (the North American chapter of The Seven Years' War). Britain dispatched General Braddock to Virginia to try to capture France's Fort Duquesne in what is now Pittsburgh.
He had been promised 2,500 horses and 250 wagons for his 250-mile overland march by Virginia and Maryland. Instead, he received only 20 wagons and 200 horses and exploded in anger. Benjamin Franklin arrived just in the nick of time, offering to arrange the help of Pennsylvania farmers. Franklin was successful. Braddock, less so: The general died in a surprise attack just a few miles shy of the fort. About 1,000 of his 1,500 men in the field were killed or wounded.
George Washington was Braddock's aide during this ill-fated attempt to capture Fort Duquesne, and Washington helped to salvage the remaining troops after Braddock was killed.
The letters reveal many more details than were previously known about the incident. For example, it turned out to have been much harder to obtain wagons and horses than previously believed. Most people assume virtuous Pennsylvania farmers gamely stepped up to the cause. But the situation was much more complex, Houston says. Some farmers had to be threatened or cajoled; others calculated that they could command a higher price by withholding their wagons and making Braddock even more desperate for their help.
"The sheer existence of these letters, sitting quietly on the shelves of the British Library for nearly 250 years, poses a tantalizing question," Houston wrote in his William and Mary Quarterly paper. "Franklin spent 18 years – more than 20 percent of his life – in the United Kingdom. How many other treasures await to be found?"
Vote: The Greatest Modern Minds
Stay up to date on the latest science news by signing up for our Essentials newsletter.
For the science geek in everyone, Live Science offers a fascinating window into the natural and technological world, delivering comprehensive and compelling news and analysis on everything from dinosaur discoveries, archaeological finds and amazing animals to health, innovation and wearable technology. We aim to empower and inspire our readers with the tools needed to understand the world and appreciate its everyday awe.