Is Modern Society Ruining Childhood?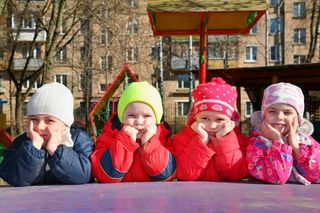 (Image credit: Dreamstime)
If a carefree childhood is a goal, Western society seems to be failing miserably. And the media isn't helping, some suggest.
A trio of new surveys indicates kids are worried about modern problems and fearing things that weren't even in youngsters' vocabularies in generations past. And an alarming number appear to be bored to death.
A survey of 500 U.S. children aged 6 to 11 found that one-third fear Earth won't exist when they grow up. And 56 percent believe the planet will not be as good a place to live.
(The truth: Earth may indeed become less hospitable in the next few decades as the climate warms and seas rise, but barring a surprise cosmic catastrophe —with odds that are astronomically long — the planet will be around for a few billion years. Feel free to share that with your kids.)
The study was conducted by Opinion Research for Habitat Heroes, an environmental charity, and a report on it by Treehugger.com has been widely cited. It should be noted that the findings suggest the questions had an environmental bent that might have influenced the answers in a manner that is not representative of kids in general. That said, other results from the survey:
50 percent of the kids said hurricanes and tornadoes are the natural disasters that scare them most.
28 percent said they fear extinction of animals, such as polar bears and penguins.
The overall worries were most profound among black and Hispanic children.
Girls worry more than boys, and urban kids worry more than those in suburbia.
The Habitat Heroes press release on the survey asks a worthy question: "Has all of the attention on saving the planet these days actually created more anxiety about the state of the Earth for our children?"
Few are carefree
A separate study of UK children, also announced this week, found only 11 percent are carefree, or free from worry. The research, which involved interviews with 200,000 children aged 6 to 14 and 18,000 of their teachers, did find 82 percent are happy most of the time. Girls are slightly happier than boys.
But 51 percent of the UK kids worry about their parents divorcing or arguing, and more than half also worry about violence and street crime.
"Children's well-being should be the top concern of any society, and a good measure of well-being is how safe children feel and how happy and fulfilled they feel," said study leader Karen Pine of the University of Hertfordshire. "I find it surprising that over half of the children surveyed worry about their parents arguing or divorcing. This shows how, when marriages are going through difficulties, children are more often aware than many parents might think they are."
(A three-year-long study published last fall in the journal Child Development found that young grade-school children who worry about how their parents are getting along do worse in school and are more likely to have psychological problems.)
The biggest factor for unhappiness among UK children, according to the researchers: boredom, cited by 74 percent.
"The children have told us that boredom is the biggest downer, along with adults who expect too much of them and having to work too hard," said Robert Hart, whose firm Intuitive Media Research Services conducted the survey. "Children want more freedom to play, relax, pursue their hobbies and be creative."
Modern worries
In previous generations, it was not uncommon for young children to be shielded from many of the world's problems. Be that good or bad, those days are largely gone. Another study announced over the weekend found 61 percent of British children say they have been affected by the recession. The study of 9- to 12-year-olds also found 14 percent fear getting stabbed or shot.
These studies all come on the heels of a newly presented theory that children — and adults — need to play more. Society depends on play, the thinking goes, and we've gotten away from it. Our early ancestors were good at it, the theory's proponent says.
Another kids-related idea presented this month — perhaps the most fleshed out research of any discussed in this article — suggests that children and adults need to spend more time with nature, a communion that is good for our brains. Playing outside vs. playing a video game gives the mind a much-needed rest, the researchers argue, by letting our brain sense things it is naturally attuned to.
The big question on my mind: Does any of this indicate that childhood is truly changing, that the shift in play from outdoors and make-believe to long hours at day care, the increasingly unavoidable news reports about impending apocalypse, the availability of electronic games and online social networking — that all of this is making kids less happy and more fearful?
It might be just differences in how questions were asked, but back 1999, Ohio State University researchers asked 86 children aged 8 to 12 several questions, including: "Most people are afraid of something. What are you afraid of?"
The results: Boys reported that they fear snakes (evolution can explain that one), monsters and scary theme park rides more often than girls did. Girls tended more to fear thunderstorms and the dark.
Ah, the good ol' days of routine fears!
Top 10 Ways to Destroy Earth
Robert Roy Britt is the Editorial Director of Imaginova. In this column, The Water Cooler, he looks at what people are talking about in the world of science and beyond.
Stay up to date on the latest science news by signing up for our Essentials newsletter.
Robert is an independent health and science journalist and writer based in Phoenix, Arizona. He is a former editor-in-chief of Live Science with over 20 years of experience as a reporter and editor. He has worked on websites such as Space.com and Tom's Guide, and is a contributor on Medium, covering how we age and how to optimize the mind and body through time. He has a journalism degree from Humboldt State University in California.