What Can an Autopsy on Otto Warmbier Reveal?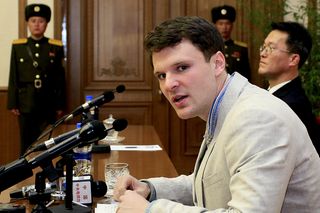 (Image credit: Kim Kwang Hyon/AP)
Update on June 20 at 10:15 p.m. ET:
Otto Warmbier's family has declined an autopsy, CNN has reported.
The Hamilton County Coronor's Office in Ohio received and examined Warmbier's body, but honored the family's request to not perform an autopsy, according to CNN. Instead, the investigators performed an "external examination."
Live Science published this article (below), earlier today:
An autopsy on Otto Warmbier, the 22-year-old American student who was imprisoned in North Korea in 2016 and died yesterday (June 19) in Cincinnati, will be conducted to further investigate his death, according to news reports.
An autopsy could confirm what doctors already suspect in the young man's case — that Warmbier experienced extensive brain injury — and potentially also offer some insight into what caused the brain injury, said Dr. Lori Shutter, the medical director of the neurovascular intensive care unit at University of Pittsburgh Medical Center Presbyterian Hospital. Shutter is not involved in Warmbier's case.
Warmbier was released back to the United States on June 13 after being held in North Korea for 17 months, the Los Angeles Times reported.
But when Warmbier returned home, he was in a coma, and doctors determined that he had suffered "extensive loss of brain tissue in all regions of his brain," which was most likely caused by cardiopulmonary arrest — meaning his heart stopped beating and didn't pump blood to the brain, The New York Times reported.
Shutter told Live Science that the coroner could potentially determine during an autopsy if there was a brain injury caused by a lack of oxygen to the brain or a lack of blood flow to the brain. [3D Images: Exploring the Human Brain]
Generally speaking, a lack of oxygen in the brain causes widespread damage throughout the brain, whereas a lack of blood flow causes damage that is more pronounced in one part of the brain than in other parts, she said.
An investigator could also look for signs of trauma to the brain or blows to the head, which could also show up as a more localized injury, Shutter said. But the initial reports about Warmbier's condition don't indicate that there was direct trauma to his head or a skull fracture, she added.
Shutter noted that the information that doctors have so far about Warmbier's brain come from brain imaging. However, such images show only the big picture, she added. Actually looking at brain tissue under the microscope can reveal other changes that could possibly confirm assumptions doctors made based on the "big brushstrokes" of the brain images, she said.
An added challenge in Warmbier's case is the amount of time that has elapsed since his initial injury. There's evidence, from brain scans sent by the North Koreans, that Warmbier experienced this brain damage sometime before April 2016, according to The New York Times.
"This far out [from the injury], there's going to be a lot of scarring and changes over time, so you may not have quite as much information compared to an autopsy that was done shortly after the initial injury," Shutter said.
During an autopsy, investigators can also look at other organs besides the brain; a generalized autopsy would include an examination of each of the organs to see if there was damage. By looking at the heart, for example, it may be possible to find changes in the muscles that could point to a heart attack, Shutter said.
Ultimately, an autopsy can reveal structural changes in the body, Shutter said, but it can't tell you what caused these changes.
Normally, when doctors examine patients, they interview the patient or a family member about the patient's medical history — a thorough inquiry into the medical conditions a person ever had as well as what happened leading up to an injury or an illness, Shutter said.
"We try to put things together and say, 'We think this is what's going on,'" and then run tests, take images and watch how the injury or illness progresses, Shutter said. "Then, you can say, 'We're pretty certain that this is what it is.'"
But in Warmbier's case, "there's a big gap, of over a year long, where no one knows what happened to him," she said. "I don't know if we'll ever know," she added.
Shutter offered an analogy to help people understand the challenges investigators face. Somebody can break a bone when he or she is a child, and decades later when the person dies, you could do an autopsy and see that the bone had been broken. "You'd know I broke a bone, but you wouldn't know how I broke it," Shutter said. "There's no way you're going to know that."
Originally published on Live Science.
Stay up to date on the latest science news by signing up for our Essentials newsletter.
Sara is a staff writer for Live Science, covering health. She grew up outside of Philadelphia and studied biology at Hamilton College in upstate New York. When she's not writing, she can be found at the library, checking out a big stack of books.