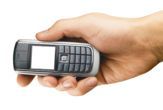 More Americans are delaying the purchase of a new cell phone because of the current economic slump, a new survey of recycled phones suggests.
ReCellular, one of the world's largest cell phone recyclers, collected about 5 million cell phones from consumers in the United States and Canada in 2009.
That is about 1 million fewer than last year, said ReCellular spokesperson Michael Newman.
"We've still got a week left, but it looks like the number of cell phones recycled is going to be less than last year," Newman said. "That's probably due to the economic condition. People just aren't turning over their cell phones as quickly."
Slow to upgrade
Past studies indicate that most Americans purchase a new phone about every 18 months, but Newman thinks that in hard economic times many people try to squeeze a few more months out of their mobiles before upgrading.
As a reflection of this, none of the top ten cell phone models ReCellular collected for recycling in 2009 are younger than three years old. The top two most recycled cell phones this year were Motorola RAZR phones first released in 2004 and 2006.
"They're among the best-selling phones of all time," Newman said. "There are just an enormous number of those phones out there."
Exact figures are hard to pin down, but ReCellular estimates that about 130 million people in the United States and Canada "retire" their old cell phones annually.
Most of those phones are not recycled right away, however. Instead, they are typically shoved into a drawer for possible use as possible replacement phones in case their new phones are lost or damaged, Newman said.
"I think a lot of the RAZR users are onto their second new phone but are only now getting around to recycling it," he said.
Cell phone resellers
Most of the used phones turned over to ReCellular are fully functional. "People are only upgrading because they want the newest technology, or the newest fashion phones," Newman told TopTenREVIEWS.
ReCellular resells about 60 percent of the phones they receive and recycle the rest for their metals.
Many of the recycled cell phones from North America find their way to developing countries around the world.
"The big issue for people adopting [cell phones] is price," Newman said.
While a new cell phone can cost hundreds of dollars, a refurbished phone can be had for as little as US $30.
"A refurbished cell phone is very economical and highly desirable around the globe," Newman said.
10 Profound Innovations Ahead
This article was provided by TopTenREVIEWS.
Stay up to date on the latest science news by signing up for our Essentials newsletter.