Serious Cyclists' Sperm Suffers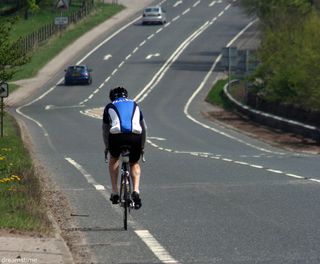 (Image credit: Dreamstime)
For any guy who has endured more than thirty minutes on a road bicycle seat, there is usually some concern over the strange numbness that occurs in places that should not go numb. Well, a new study has some good and bad news.
Spanish researchers have found that active male cyclists have lower quality sperm to the point of infertility risk. Among other things, they blame the painful "function over form" design of the wedge bicycle seat.
The good news is that unless you're training to be in the next Tour de France with Lance Armstrong, your time on the saddle shouldn't do any long-term damage.
A team led by professor Diana Vaamonde, from the University of Cordoba Medical School, tracked the workout regimen of 15 Spanish triathletes, with an average age of 33 who had been training for at least eight years, while also monitoring their sperm morphology.
For those in the test group that covered more than 180 miles per week on their bikes, the percentage of normal looking sperm dropped from a group average of 10 percent to 4 percent, a rate where infertility problems begin. Increased swimming or running did not affect sperm quality.
"We found a statistically adverse correlation between sperm morphology and the volume of cycling training undertaken per week," Vaamonde said. "We believe that all the factors inherent in this sports activity, especially with regards to the cycling part, may affect sperm quality," she added. "Moreover, we think that normal physiological homeostasis – the body's ability to regulate its own environment – may become irreversibly altered, therefore resulting in complex anomalies."
Vaamonde cited three possible reasons for the results: the increased heat during exercise, the friction and pressure against the seat causing microtrauma on the testes, and the overall rigor of intense exercise.
The study was released last week in Amsterdam at the annual conference of the European Society of Human Reproduction and Embryology (ESHRE).
The Spanish researchers were following up on research from 2002 that showed similar results for mountain bikers. In that study, Austrian researcher Ferdinand Frauscher tested 40 active (two hours per day) mountain bikers with 30 non-bikers. He found that the bikers had about half the sperm count of the non-bikers. Frauscher explained (as only a medical doctor can) the possible reasons: "The exact causes for the decreased sperm motility are unclear. We believe that repeated mechanical trauma to the testicles results in some degree of vascular damage, and may thereby cause a reduction in sperm motility." Ouch.
For casual bike riders, the risk is still quite low. Allan Pacey, senior lecturer in andrology at the University of Sheffield, told BBC News, "It is important to stress that even if the association between cycling and poor sperm morphology is correct, men training for triathlons are spending much more time in the saddle than the average social cycler or someone who might cycle to and from work."
For those that are still not okay with the "saddle sores," there are always the anatomically correct seats and the padded biker shorts, not to mention recumbent bikes. Beyond that, maybe a nice jog would be better.
Dan Peterson writes about sports science at his site Sports Are 80 Percent Mental. His Science of Sports column appears weekly on LiveScience.
Stay up to date on the latest science news by signing up for our Essentials newsletter.