Should Supreme Court Justices Be Compassionate?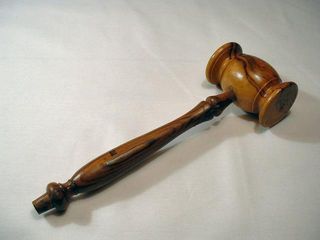 What's your view? Vote below.
President Obama's nomination of Sonia Sotomayor for the Supreme Court could force Republicans to choose between the often-nasty nomination battles that attend such weighty decisions and the potentially wide popular appeal of a Hispanic woman portrayed as one who understands and deserves some compassion.
Should compassion be a qualification for a Supreme Court Justice? If so, then Sotomayor is a strong choice, social researchers would say.
A Pew Research Center survey last year found that 80 percent of Americans believe women are generally more compassionate than men. Only 5 percent said men are more compassionate.
The White House certainly hopes compassion plays a role. Obama said he wanted a justice with a "common touch and a sense of compassion" as well as experience and depth of knowledge, Fox News reports.
Obama also touted reasons that Americans might show a little compassion for Sotomayor. Among the stories he told about her today:
"Born in the South Bronx, she was raised in a housing project not far from Yankee Stadium, making her a lifelong Yankee's fan. ... Sonia's parents came to New York from Puerto Rico during the second world war, her mother as part of the Women's Army Corps. ... Sonia's father was a factory worker with a 3rd-grade education who didn't speak English. ... When Sonia was nine, her father passed away. And her mother worked six days a week as a nurse to provide for Sonia and her brother."
Of course it's mostly men in Congress who will set the tone of the nomination hearings. And so the battle has already begun.
"The G.O. P. has to make a stand," Scott Reed, manager of the 1996 presidential campaign of Bob Dole, is quoted as saying in The New York Times. "This is what the base and social conservatives really care about, and we need to brand her a liberal with some out-of-the-mainstream positions. Forget about cosmetics and ethnic heritage, and focus on her record."
Others are using gentler words.
"Senate Republicans will treat Judge Sotomayor fairly," U.S. Senate Republican Leader Mitch McConnell said today. "But we will thoroughly examine her record to ensure she understands that the role of a jurist in our democracy is to apply the law even-handedly, despite their own feelings or personal or political preferences. Our Democratic colleagues have often remarked that the Senate is not a 'rubber stamp.' Accordingly, we trust they will ensure there is adequate time to prepare for this nomination, and a full and fair opportunity to question the nominee and debate her qualifications."
Below are some other interesting details from the Pew survey. First, the poll:
<script type="text/javascript" language="javascript" charset="utf-8" src="http://static.polldaddy.com/p/1653392.js"></script><noscript> <a href="http://answers.polldaddy.com/poll/1653392/">Should Supreme Court Justices Be Compassionate?</a><span style="font-size:9px;">(<a href="http://www.polldaddy.com">blog polls</a>)</span> </noscript>
The percentage of respondents (men and women combined) who said the following characteristics are more true of men or women:
Arrogant: Men (70 percent); Women (10 percent)
Stubborn: Men (46 percent): Women (32 percent)
Decisive: Men (44 percent); Women (33 percent)
On some other important traits, men and women were perceived to be more equal. Percent who thought the following characteristics are more true of men or women:
Ambitious: Men (34 percent); Women (34 percent)
Hardworking: Men (28 percent); Women (28 percent)
Women won out on these:
Manipulative: Men (26 percent); Women (52 percent)
Honest: Men (20 percent); Women (50 percent)
Among the more interesting findings in the survey, however: Though women are rated higher in many traits that are considered desirable for leaders, just 6 percent said that, overall, women make better political leaders than men.
Check out the full results of the Pew survey to see how the responses varied significantly depending on the gender of the respondent.
Robert Roy Britt is the Editorial Director of Imaginova. In this column, The Water Cooler, he looks at what people are talking about in the world of science and beyond.
Stay up to date on the latest science news by signing up for our Essentials newsletter.
Robert is an independent health and science journalist and writer based in Phoenix, Arizona. He is a former editor-in-chief of Live Science with over 20 years of experience as a reporter and editor. He has worked on websites such as Space.com and Tom's Guide, and is a contributor on Medium, covering how we age and how to optimize the mind and body through time. He has a journalism degree from Humboldt State University in California.