Manhattan Depicted Before Human Impact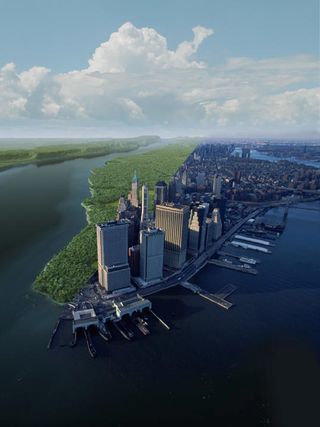 New York City seems about as far removed from its natural state as any spot on the planet. Now a new study reveals what Manhattan looked like before it became a concrete jungle.
Once known as Mannahatta — the land of many hills — in the Lenape Native American dialect, New York was a lush island paradise 400 years ago. Times Square used to be an old-growth forest, Harlem was a ranging meadow, and downtown was wetlands. Streams teemed with fish. Wolves, mountain lion, elk and deer roamed the rolling hills.
To recreate the original New York, Wildlife Conservation Society ecologist Eric Sanderson used computer models to combine information from historical maps, archaeological records and ecological data. The study is part of the Mannahatta project to celebrate Manhattan's natural heritage on the 400th anniversary of the day British explorer Henry Hudson "discovered" the island.
"Imagine a virtual time machine that would allow you to see and hear the island's wild nature, from chestnut forests to sandy beaches, before it was transformed by man's increasing footprint," Sanderson said. "The purpose of the Mannahatta Project is to foster an appreciation for the remnants of the natural world — even in this most urban of jungles — and inspire us to work harder to preserve wild places, here and across the globe."
The year-long project includes the release of a book, Mannahatta: A Natural History of New York City, an exhibition at the Museum of the City of New York (running May 20 through October 13, 2009), and walking tours led by Sanderson. For more information visit www.themannahattaproject.org.
Stay up to date on the latest science news by signing up for our Essentials newsletter.
Clara has a bachelor's degree in astronomy and physics from Wesleyan University, and a graduate certificate in science writing from the University of California, Santa Cruz. She has written for both Space.com and Live Science.