Cities Cover More of Earth than Realized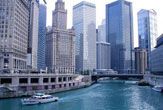 Three percent of the world's land surface is covered with urban areas, an increase of at least 50 percent over previous estimates, scientists said this week.
The Global Rural Urban Mapping Project (GRUMP) combined satellite images of urban lights at night with population data, painting a more accurate picture than scientists had before.
The project identified 75,000 distinct urban settlements worldwide. Many are clumped. For instance, Tokyo, which is the largest urban area with 12,000 square-miles (30,000 square-kilometers), is made up of more than 500 connected settlements.
Sorting through the relevant data, GRUMP found that there are only 24,000 urban areas with 5,000 persons or more.
"We know that this is an undercount, because the poorest countries have urban areas that were either hard to detect with the satellite or have weak census-taking," said Deborah Balk of the Center for International Earth Science Information Network (CIESIN). "This method is novel and a huge improvement over previous databases. It's not perfect, but it's an important achievement."
Other findings:
One-fifth of the world's urban settlements have populations below 500,000 - a significant fact considering that the United Nation Population Division only reports on urban settlements of 500,000 inhabitants or more.
Coastal environments have much higher concentrations of urban land area (10 percent) and urban populations (65 percent) than other ecosystems.
In Asia and Africa, fewer people live in coastal and cultivated areas than in the Americas, Europe and Oceania. But the coastal cities of Asia and Africa are more densely populated.
Seven percent of urban dwellers now reside in the world's largest mega-cities, whereas experts had previously estimated this number to be around four percent.
"The GRUMP datasets will allow us to rethink trends in urbanization and the relationship between population, ecosystems and land use," Balk said. "GRUMP shows us that the urban experience is not uniform, that city-size matters, and city distribution matters."
The researchers delineated the boundaries of urban areas down to 0.4 square-miles (1 square-kilometer), allowing for a better discrimination between urban and rural populations.
"Past spatial population datasets have confounded urban and rural populations," said Stanley Wood of the International Food Policy Research Institute, "But the better we can distinguish patterns of rural population, farming and use of natural resources, the better placed we are to address the major challenges of rural development and poverty alleviation. GRUMP is an important step in the right direction."
An interactive map of urban areas is available here.
Stay up to date on the latest science news by signing up for our Essentials newsletter.
Michael Schirber began writing for LiveScience in 2004 when both he and the site were just getting started. He's covered a wide range of topics for LiveScience from the origin of life to the physics of Nascar driving, and he authored a long series of articles about environmental technology. Over the years, he has also written for Science, Physics World, andNew Scientist. More details on his website.