Small 'Underwater Pompeii' Found Off Greek Island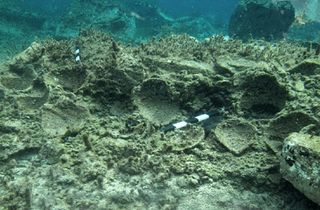 (Image credit: Greece Culture Ministry)
Remains of an ancient settlement, complete with a ruined pottery workshop, have been found on the bottom of the Aegean sea off the small island of Delos, the Greek ministry of culture has announced.
Dubbed by the Greek media "a small underwater Pompeii," the structures lay at a depth of just 6 feet on the northeastern coast of Delos.
"In the past these ruins were identified as port facilities," the culture ministry said.
Photos: Exploring Delos: Home of 'Underwater Pompeii'
But a new investigation by the National Hellenic Research Foundation and the Ephorate of Undersea Archaeology, led to different conclusions. Rather than a dock, a pottery workshop and other buildings once stood at the site.
Archaeologists found 16 terracotta pots and remains of a kiln embedded in the sea floor.
"Similar workshops have been found in Pompeii and Herculaneum," the ministry said.
Large stones were found lined in front of the workshop remains. According to the archaeologists, they were probably part of the settlement's waterfront.
Possibly related to commercial and crafting activities, the settlement somehow collapsed. The man-made ruins have remained hidden on the sea bed ever since.
Vases in Pompeii Reveal Panic Before Eruption
Underwater archaeologists identified several structures, including fallen colonnades and the remains of walls which once extended along the shoreline.
The findings add new intriguing details to one of Greece's most important archaeological sites.
Located in the center of the Cyclades archipelago near the island of Mykonos, Delos is where, according to Greek myth, the sun god Apollo was born.
As the site of the Apollo cult and one of the main centers of the Aegean slave trade (as many as 10,000 slaves were said to be sold in a single day) Delos flourished for 700 years, from the 8th until the 1st centuries B.C.
'Titanic of the Ancient World' Reveals Treasure Trove
For much of antiquity people were not allowed to die or give birth on the sacred island, which nonetheless became a thriving commercial port, especially under the Romans in the 3rd and 2nd century BC.
Decline came as the troops of Mithridates VI of Pontus attacked the island in 88 BC, slaughtering 20,000 inhabitants.
Raided by pirates and invaders, Delos was abandoned around the 5th century A.D., and many of its ancient marbles were used as building materials by the inhabitants of the nearby islands.
Further research on the underwater findings is expected to add new information on the commercial role of the island during the Roman period.
This article provided by Discovery News.
Stay up to date on the latest science news by signing up for our Essentials newsletter.