Virgin Galactic's SpaceShipTwo Spacecraft Crashes During Test Flight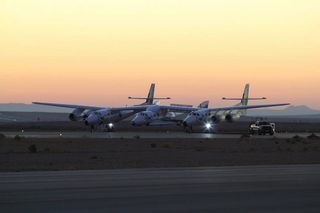 (Image credit: Scaled Composites / Jason DiVenere)
Virgin Galactic's suborbital space plane SpaceShipTwo suffered a serious malfunction during a rocket-powered test flight over Mojave, California, today (Oct. 31) resulting in the loss of the spacecraft. One of the two pilots aboard was killed and the other injured, according to media reports.
The SpaceShipTwo passenger spacecraft experienced an unspecified anomaly after igniting its rocket motor shortly after the vehicle separated from its carrier plane WhiteKnightTwo. The exact nature of the problem has not yet been released.
"Virgin Galactic's partner Scaled Composites conducted a powered test flight of SpaceShipTwo earlier today," Virgin Galactic officials said in a statement on Twitter today. "During the test, the vehicle suffered a serious anomaly resulting in the loss of SpaceShipTwo. WhiteKnightTwo landed safely. Our first concern is the status of the pilots, which is unknown at this time. We will work closely with relevant authorities to determine the cause of this accident and provide updates ASAP."
A California Highway Patrol officer later told NBC News that the accident caused one fatality and one major injury.
Today's test flight marked SpaceShipTwo's first powered test flight since January, and it was the fourth powered flight for the passenger spaceliner. Virgin Galactic successfully performed an unpowered "glide flight" earlier in this month without igniting the rocket engine.
SpaceShipTwo and its carrier aircraft WhiteKnightTwo were cleared for takeoff at California's Mojave Air and Space Port at 12:19 p.m. EDT (1619 GMT) for the test, according to NBC News' Alan Boyle.
SpaceShipTwo is designed to carry six passengers and two pilots on round-trip flights into suborbital space. The air-launched spacecraft is carried to altitude by its WhiteKnightTwo carrier ship, then dropped from 50,000 feet (15,000 meters). At that point, the carrier craft is expected to drop SpaceShipTwo, and the space plane's rocket motor should turn on, taking it up to suborbital space.
Virgin Galactic CEO George Whitesides said earlier this month that the company was hoping to resume powered test flights of SpaceShipTwo.
"We've done a lot of development tests over the years, but what we've been doing recently are qualification tests where you're firing the same motor design multiple times to make sure you're seeing the same thing every time," Whitesides told Space.com in mid-October. "So now we feel ready to put that motor on the spaceship."
Currently, rides on SpaceShipTwo (which has not begun flying commercially yet) run for $250,000. More than 700 people have paid for seats on the spaceliner.
British billionaire Sir Richard Branson licensed the technology for SpaceShipOne — SpaceShipTwo's predecessor built by Scaled Composites — after SpaceShipOne won the $10 million Ansari X Prize. The prize was awarded after the spaceship became the first private, manned craft to fly to space twice in two weeks.
Further updates on the status of Virgin Galactic's SpaceShipTwo accident will be added here as more information becomes available.
This story was updated at 3:30 p.m. EDT.
Follow Miriam Kramer @mirikramer and Google+. Follow us @Spacedotcom, Facebook and Google+. Original article on Space.com.
Stay up to date on the latest science news by signing up for our Essentials newsletter.
Miriam Kramer joined Space.com as a staff writer in December 2012. Since then, she has floated in weightlessness on a zero-gravity flight, felt the pull of 4-Gs in a trainer aircraft and watched rockets soar into space from Florida and Virginia. She also serves as Space.com's lead space entertainment reporter, and enjoys all aspects of space news, astronomy and commercial spaceflight. Miriam has also presented space stories during live interviews with Fox News and other TV and radio outlets. She originally hails from Knoxville, Tennessee where she and her family would take trips to dark spots on the outskirts of town to watch meteor showers every year. She loves to travel and one day hopes to see the northern lights in person.