Implant Relieves Nausea Without Drugs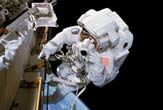 Johns Hopkins University has just patented a new device for relief from nausea. In the patent, Dr. Ronald Lesser, MD and Dr. Robert Webber, PhD propose a system that could help pregnant women cope with nausea without using drugs that could endanger the health of the fetus, among other uses.
A small metal rod wrapped in a metallic coil is inserted beneath the skin on a patient's neck, close to the vagus nerve.
When current is run through a similar coil held outside the neck, the induced current in the inserted rod should stimulate the vagus nerve and disrupt the sense of nausea felt by a patient.
Johns Hopkins says that the strength and frequency of pulses must be set by a physician to suit each individual patient. Once adjusted, patients should be able to control their own symptoms with a hand-held device. Although the vagus nerve affects the heart, lungs and stomach, JHU says stimulation should not affect vital functions, such as cardiac rhythm.
SF writer Lois McMaster Bujold wrote about a similar idea in her 2002 novel Diplomatic Immunity for use by space travelers who frankly had no stomach for free fall-induced nasea:
If you are interested in science-fictional medical advances that are starting to appear at hospitals near you, see Bionic Arm Uses Neuro-Engineering, Brain 'Pacemaker' for Depression Sufferers and Southampton 'Remedi Hand' Beats Hollywood Thanks to Delster for pointing out this story; read a bit more at NewScientist.
(This Science Fiction in the News story used with permission from Technovelgy.com - where science meets fiction.)
Stay up to date on the latest science news by signing up for our Essentials newsletter.
Bill Christensen catalogues the inventions, technology and ideas of science fiction writers at his website, Technovelgy. He is a contributor to Live Science.